This Bride Tried To Charge Guests To Attend Her Wedding, It Didn't Go Well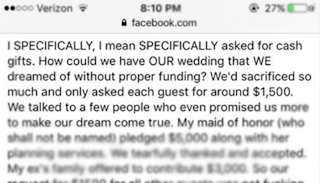 Image via Twitter/olspicekeychain
A bride tried to charge wedding guests $1,500 to attend her nuptials
Think you've heard the absolute worst of bridezilla stories? Think again, my friend, think again. A woman literally tried to charge each of her wedding guests $1,500 to attend the ceremony and then blew up on Facebook when people didn't want to fork over that kind of cash (imagine that!) Her rant is almost too insane to be true. Almost.
Twitter user @0lspicykeychain gifted us all with this train wreck of a story, and posted screenshots from a very real Facebook status found in a "wedding shaming" group (did not know that was a thing, would like to join immediately).
Let's meet our bride-to-be. She took to social media to let her friends and family know that she was calling off her wedding four days before it was supposed to happen. She also wanted to let them know that it was all their fault and she would be embarking on a two-month backpacking trip through South America to rid herself of the toxicity. Yikes.
https://twitter.com/jetpack/status/1033361985843417089
Basically, this woman wanted a super duper over the top celebration. Because her relationship with her fiancé is like a "fairy tale," she wanted a blow out wedding to match. After they consulted a local psychic (yikes again), the couple was advised to go with the more expensive venue option and they settled on a destination wedding in Aruba. The total cost would be $60,000.
"How could we have OUR wedding that WE dreamed of without proper funding?" she wrote. "We sacrificed so much and only asked each guest for around $1,500."
Sure. Because we all feel totally fine and good handing over $1,500 to help foot the bill for someone's lavish wedding. Makes complete sense.
https://twitter.com/jetpack/status/1033537773561622529
Surprise, surprise, only eight people RSVPed and sent over a check. Important side note: if a guest could not afford that amount of money, they were no longer invited to the wedding. Because, she explained, it's an "exclusive" celebration and a "once and a lifetime party."
Then, the groom's family backed out of paying the $3,000 they pledged. And the bride's maid of honor withdrew her promise to pay $5,000 plus her "planning services." The couple resent the invitations and asked for donations. They started a GoFundMe page.
https://twitter.com/jetpack/status/1033538089371754498
The bride's maid of honor tried to explain to her that she was asking for too much. In turn, the bride called her maid of honor "a filthy fucking poor excuse for a friend." She wrote that she didn't understand why people weren't getting it. She just wanted to "be a Kardashian for a day." I am literally playing the world's smallest violin for this woman right now. I think Kim and Khloe would agree.
https://twitter.com/jetpack/status/1033540608206483456
Things started to fall apart with the husband, they broke up, and now the former bride-to-be said that she will be off the grid for the next two months. "How hard would it have been to fucking donate friends," she asked once again. "Just fucking give me money for my wedding."
Can someone please, please explain to this woman that guests are under ZERO obligation to pay for a couple's wedding? Like, that is just not a thing.
https://twitter.com/jetpack/status/1033541853809917954
*Sigh.* Hopefully those two months backpacking through South America will provide some much needed clarity. If not, every single person who invites this former bride to their wedding better charge her $1,500 for her attendance. It's only fair.
This article was originally published on