The First Trailer For Bridgerton Season 2 Is Here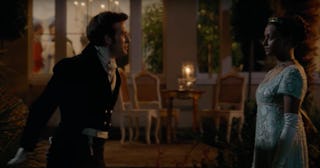 (Netflix)
Okay, take a deep breath: the first look at the second season of Bridgerton is finally here
Shondaland's 19th century saucy romance series hit all the right spots when it dropped back in December 2020. Some of the first season's, ahem, more titillating scenes had fans eager for more, ASAP, even with breakout star and certified heartthrob Regé-Jean Page's exit from the show.
On Sept. 25, Netflix dropped a teaser for the second season at its fan event Netflix Tudum. The scene features everything fans love about a Shondaland show, namely, the key component of a flawed-but-classically-handsome suitor being caught off guard by a smart, take-no-bullsh*t woman.
In this scenario, the suitor is Viscount Anthony Bridgerton (Jonathan Bailey), and the woman is newcomer Kate Sharma (played by Simone Ashley of Sex Education.) Kate overheard Anthony rattling off his requirements of a wife, and puts him right in his place, saying "I find your opinion of yourself entirely too high." She then slams his horse-riding abilities and wonders if any woman of his standard would actually want him. Uh, is it getting hot in here, or is it just us?
Somehow getting this little taste of Season 2 makes the waiting all the more unbearable.
Fans are champing at the bit for this season to drop. For context, roughly 82 million households tuned in for the first season within the first month of it dropping, so there are a lot of people waited with bated breath to hear the latest takes in Lady Whistledown's Society Papers.
The teaser has garnered some Pride & Prejudice comparisons and honestly? We are here for it.
And fans of the book series seem giddy at the arrival of what appears to be a fan-favorite ship. Okay, is there any way we can safely move up this release date?
If quotes from the book series, penned by Julia Quinn, are any indication, we are in for a very fun, and dare we say, quippy and raunchy second season of Bridgerton.
Showrunner Chris Van Dusen teased this romance at the Netflix event, saying, "Anthony is going to have a love interest next season, and I think it's going to be as sweeping and moving and as beautiful as viewers of the first season have come to expect from the show."
We are assuming that production on the second season has finally wrapped, or at least near the end. The show faced several setbacks and had to shut down production because of confirmed COVID cases in the cast and crew over the summer. The show is set to premiere in 2022, and seasons 3 and 4 have already been confirmed. Here's hoping we have an official release date for the saucy series's second season soon.
This article was originally published on