REPORT: Britney Spears Called 911 For 'Conservatorship Abuse' Before Testimony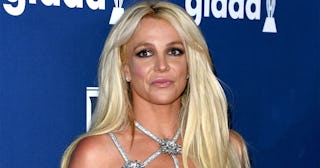 Jon Kopaloff/Getty
Britney Spears reportedly called 911 the night before her explosive testimony about her conservatorship
On June 23, 2021, Britney Spears took the mic and detailed with clear testimony, the trauma and pain of her enduring conservatorship and her desires to be free from the abusive guardianship. Now, in a bombshell expose for The New Yorker, writers Ronan Farrow and Jia Tolentino open up about how the conservatorship came to be and how, the night before her explosive June 23, 2021 testimony, Spears actually made a 911 call.
According to someone close to Spears and to Ventura County law enforcement, Spears reportedly called 911 the night before her testimony to report herself as a victim of conservatorship abuse.
However, as are most things concerning the pop star, the 911 call has been sealed. Per Farrow and Tolentino, "Emergency calls in California are generally accessible to the public, but the county, citing an ongoing investigation, sealed the records of Spears's call."
Farrow and Tolentino go on to explain how Spears' "team" panicked after they heard about the 911 call and did everything they could to stop the public from hearing her testimony on the 23rd, though Spears was smart and — as we all heard at the hearing — specifically stated that she wanted her testimony to be heard by the public.
"Somebody's done a good job at exploiting my life," Spears said during the call. "I feel like it should be an open-court hearing — they should listen and hear what I have to say."
It's unclear what the current status is of the criminal investigation related to Spears' 911 call as the rest of The New Yorker piece dives into the early days of Brit's conservatorship and why it was created, how Spears' family thought she was being taken advantage of by men like Sam Lufti, but also how Brit's contentious custody battle and media exploitation contributed to her fraught emotional state, which in turn, pushed her towards figures like Lufti.
Many in Brit's inner circle at the time told The New Yorker that they thought the conservatorship was temporary and necessary, though here we are now, over a decade later, wondering how a lucid, high-achieving grown woman still cannot make decisions about her life and her money.
The article also details how Spears has been trying to contact lawyers and free herself from the conservatorship from the very beginning.
This was never something she wanted or appreciated.
Brit wants to formally end the conservatorship, but two days ago, Spears' request to remove her father as her conservator was denied by a judge in Los Angeles. However, this motion was filed back in November and did not address Spears' recent call into court. The judge did not rule out future petitions to remove Jamie Spears from the role as conservator. Additionally, the financial company appointed to co-manage Spears' money just resigned. Unfortunately, the company's resignation gives more power to Jamie Spears.
Our sincere hope for Spears is that she's granted the future she so desperately deserves.