Britney Calls Out Her Sister And Dad In Another Scathing Post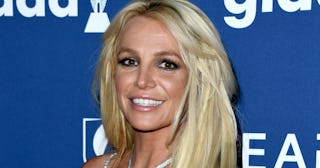 Jon Kopaloff/FilmMagic
Britney Spears is back for another round of dragging her fam, and it's a doozy
After years of alleged forced silence, Britney Spears sets the record straight. First came the bombshell conservatorship hearing where Spears asked the judge to remove the legal framework that's been in place for 13 years. Then came a series of revelations, some of which came from the news (such as a report that Spears called 911 with claims of conservatorship abuse in the days before the public hearing), to Instagram posts where Spears herself asked for privacy during this difficult time.
Now comes a blistering post from Spears, where she specifically calls out her sister, Jamie Lynn Spears. Buckle up, buttercup, because it's a doozy.
Let's start with the beginning, where Britney sets expectations about what we're going to see in her statement.
"For those of you who choose to criticize my dancing videos … look I'm not gonna be performing on any stages anytime soon with my dad handling what I wear, say, do, or think 🚫🙅🏼‍♀️ 🚫!!!! I've done that for the past 13 years," Britney begins the caption.
Pop star P!nk tweeted her support, while Jeffree Star, Selma Blair, Paris Hilton and Snooki took to the comment section to cheer Britney on.
Britney then gives fans a peek into her rationale for dancing in her living room.
"I'd much rather share videos YES from my living room instead of onstage in Vegas where some people were so far gone they couldn't even shake my hand and I ended up getting a contact high from weed all the time … which I didn't mind but it would have been nice to be able to go to the mother fucking spa 💆🏼‍♀️🤭🧖🏼‍♀️ !!!!"
The pop star reiterates that she has no plans to return to the stage.
"And no I'm not gonna put on heavy makeup and try try try on stage again and not be able to do the real deal with remixes of my songs for years and begging to put my new music in my show for MY fans … so I quit !!!!"
And then, Britney goes there. She calls out her sister for performing her songs without permission.
"I don't like that my sister showed up at an awards show and performed MY SONGS to remixes !!!!! My so-called support system hurt me deeply !!!!"
Fans remembered Jamie Lynn's prior statements about Spears' tour.
In a heartbreaking section, Britney explains how the legal system has let her down.
"This conservatorship killed my dreams … so all I have is hope and hope is the only thing in this world that is very hard to kill … yet people still try !!!!"
By the end of the caption, Britney lets fans (and haters) know that despite everything, she still believes in fairy tales.
" […] women who say it's weird the way I still have hope for fairy tales … go fuck yourself 🖕🏼 !!!!! As I said … hope is all I have right now … you're lucky I post anything at all … if you don't like what you see, unfollow me !!!"
Britney then offers up a quote so apt, so resonant, that it should be embroidered on a flag and flown everywhere from the grocery store to the dentist's office: "People try to kill hope because hope is one of the most vulnerable and fragile things there is !!!!"
One fan tweeted support to the singer.
In a total boss move, Britney drops the mic on her way out.
"I'm gonna go read a mother fucking fairy tale now !!!! Psss if you don't want to see my precious ass dancing in my living room or it's not up to your standards … go read a fucking book 📕 !!!!!"
You tell 'em, Britney.