Britney Spears Wants To Charge Her Dad With 'Conservatorship Abuse'
by Christina Marfice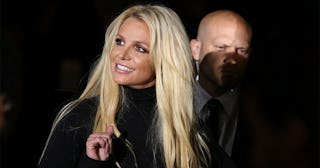 Gabe Ginsberg/FilmMagic/Getty
For the first time since her conservatorship began 13 years ago, Britney Spears has been allowed to choose and hire her own lawyer to represent her interests
Britney Spears just won a major battle in her war against the conservatorship that she has called "oppressive" and "abusive." After yet another court hearing on Wednesday, Spears' longtime, court-appointed lawyer, Samual D. Ingham III, has been allowed to resign — giving Spears the freedom to choose her own lawyer for the first time in 13 years. She has retained former federal prosecutor Mathew S. Rosengart, a powerhouse attorney in Hollywood who has a tendency to take on high profile celebrity cases. Her choice was approved by Judge Brenda Penny on Wednesday.
At her court appearance on Wednesday, Spears once again made some explosive statements, reiterating that in 13 years as her court-appointed attorney, Ingham never told her she was free to file to end the conservatorship.
"I would like to charge my father with conservatorship abuse," she told the judge. "I want to press charges against my father today. I want an investigation into my dad."
Britney made her wishes very, very clear. "I am here to get rid of my dad," she said. "I haven't really had the opportunity by my own self to actually handpick my own lawyer by myself, and would like to be able to do that." She told the judge about the "fucking cruelty" she alleges has happened under the conservatorship including not being allowed to drink coffee. "If this is not abuse, I don't know what is," Britney states.
Britney plainly tells the court, "this conservatorship has allowed my dad to ruin my life," alleging 70-hour workweeks she claims were intended to make her feel "crazy."
"Their goal was to make me feel crazy and I'm not," she said. "And that's not OK."
The judge also approved a request from Bessemer Trust to resign as co-conservator of Spears' finances and estate. Bessemer Trust requested to withdraw from the position after Spears made her bombshell public testimony about her conservatorship three weeks ago. In a statement, the financial management company said, "Petitioner has heard the Conservatee and respects her wishes."
Since Spears gave her heartbreaking testimony, her longtime manager, Larry Rudolph, has also resigned from her team.
In a tweet following her Wednesday court appearance, Spears tweeted in celebration of her new representation.
"Coming along, folks … coming along," she wrote alongside a video of herself horseback riding, something she has long loved to do, and doing celebratory cartwheels. "New with real representation today … I feel GRATITUDE and BLESSED !!!! Thank you to my fans who are supporting me … You have no idea what it means to me be supported by such awesome fans !!!! God bless you all !!!!"
Spears continues to have support from fans all over the world, as well as a growing number of celebrities who have spoken out against her conservatorship. Recently, the ACLU has offered their assistance, saying in a statement, "It's not just about Britney. We hope that offering supported decision-making to Britney can serve as a model in other cases, because all people living with disabilities or under conservatorship deserve the chance to make their own informed choices and lead self-directed lives."