Britney Spears' Mom Petitions Court To Listen To Her Daughter's Wishes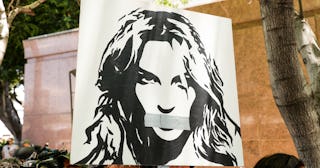 Rich Fury/Getty Images
Britney Spears' mom, Lynne Spears, has filed court documents in support of her daughter's testimony
Keeping up with Britney Spears' battle for her legal and financial freedoms remains dizzying after her heartbreaking court testimony last month, in which she revealed she'd been subject to abuse and mistreatment under her 13-year long conservatorship.
In the weeks since, multiple people involved with the conservatorship — including those related to Spears — have resigned, including her lawyer, Sam Ingham, her longtime manager, Larry Rudolph, and Bessemer Trust, the financial company put into place in November 2020 to serve as co-conservator along with the pop icon's dad, Jamie Spears.
Ahead of the next hearing in her case on July 14th, it seems so much of Spears' future remains in flux, but one person close to her has just stepped up to advocate on her behalf. Her mom Lynne filed an official petition asking the court to "listen to the wishes of her daughter, and as a first step," Lynne requested that Judge Brenda Penny allow Britney to enlist her own private legal counsel — one of the requests Britney herself made during her testimony on June 23rd.
"Her capacity is certainly different today than it was in 2008, and Conservatee [Britney] should no longer be held to the 2008 standard, whereby she was found to 'not have the capacity to retain counsel,'" reads Lynne's petition. "It is self-evident that before the Court addresses, for example, the termination of the conservatorship, Conservatee must be allowed to consult with counsel of her choosing. Clearly, Conservatee needs private counsel to advise her as to her basic rights in this conservatorship."
The petition also lists some of the many accomplishments Britney has made during her time under the restraints of the conservatorship, including that she has "had to perform in front of millions of people, has had to manage hundreds of performances, has had to use her artistic and creative talents to prepare for shows by choreographing each and every move for and interacting with many co-performers, and has had to rehearse and perform for many thousands of hours over the years."
Lynne's lawyers also listed a slew of other requests that Britney herself had made during her testimony, including the ability to ride in her boyfriend, Sam Asghari's, car; that she receive private therapy once per week at her home to avoid the scrutiny of the public and paparazzi; that she be able to see her friends and perhaps most poignantly, that she can have her IUD removed, get married, and have a baby, all of which she expressed she hasn't been allowed to do.
Of course, while fans still want the court to listen to Britney's wishes by dissolving the conservatorship altogether, it's worth noting that being able to choose her own legal representation is a major step towards that happening, and will hopefully afford her the protection she needs to move forward freely.
Others have questioned why Lynne is only coming forward to support her daughter now, which is unclear. Reporters Ronan Farrow and Jia Tolentino spoke to Lynne in their bombshell expose released last weekend, when she told them she had "mixed feelings about everything," adding, "It's a lot of pain, a lot of worry."
It seems like Britney will finally have her chance at freedom soon, and here's hoping she has all the love and support she needs and deserves going forward.
This article was originally published on