Britney Spears Posts Rare Photo Of Her Teen Sons
by Christina Marfice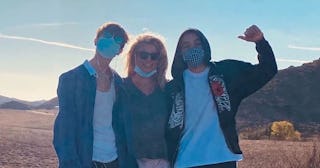 Britney Spears/Instagram
Britney Spears has the same problem as any mom of teenagers: They're way too cool for photos
The last few months have been eventful for Britney Spears, who is still fighting a lengthy and very public court battle to have her father removed from his position as conservator of her finances. After the New York Times released its shocking documentary about her last month, the singer has seen a huge flood of support from the public. And now, she's giving us all a glimpse into a part of her life that she rarely allows to be seen: Her kids.
Spears shares her two sons, 15-year-old Sean Preston and 14-year-old Jayden James, with her ex-husband, Kevin Federline. The boys have stayed well out of the public eye since they (and their mom) were relentlessly hounded by the paparazzi in the early years of their lives. But now? They're full-blown teenagers and they're both taller than Brit.
"It's so crazy how time flies …. My boys are so big now," she wrote. Uh, yeah, we kind of can't believe it either. These aren't two boys — they're clearly two young men.
Spears continued, "I know … I know … it's very hard for any mama especially a mama with boys seeing them grow up so fast !!!! Talk about enough to make you go to your knees … GEEZ !!!!"
Spears went on to express gratitude about who her boys are growing up to be, even though they tell her it's not cool to take photos with them — or to post them, something moms of teenagers everywhere will relate with.
"I'm extremely lucky because my two babies are such gentleman and so kind that I must have done something right," she wrote. "I haven't posted pictures of them for some time cause they're at the age where they want to express their own identities and I totally get it …. But I went out of my way to make this cool edit… and guess what …. They're finally letting me post it !!! Now I don't feel left out anymore." Moms of teens everywhere can relate, no doubt.
Spears' longtime boyfriend, Sam Asghari, left a sweet comment on the photo, referencing the singer's mama bear tendencies.
We're all for respecting kids' autonomy, and that means if they don't want to have their photos published online (especially when their mom is a major celebrity), they deserve to have that wish respected. But we're not going to lie — there's a part of us that hopes this is the beginning of Spears' kids being more open to letting their mom show them off, because we love seeing this sweet family all together.