Brooklyn Landlord Waives Rent For Over 200 Tenants Amid Coronavirus Pandemic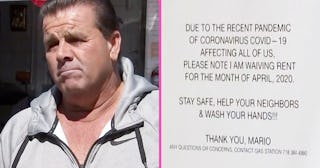 NBC New York
A Brooklyn landlord's gift to tenants amid the pandemic has people calling him a hero
These may be dark times, but light always finds a way — and for 200 to 300 renters in Brooklyn, that light comes in the form of their landlord, Mario Salerno. On March 30, the 59-year-old quietly left a notice on the front door of every apartment he owns (around 80) with a special message for his tenants: "Due to the recent pandemic of Coronavirus COVID-19 affecting us all, please note I am waiving rent for the month of April. Stay safe, help your neighbors and wash your hands."
It's enough to bring a tear to even the most cynical eye. But if you ask Salerno, which NBC New York did, it's simply the right thing to do. "For me, it was more important for people's health and worrying about who could put food on whose table," he told the news outlet. "I say don't worry about paying me; worry about your neighbor and worry about your family."
Salerno made the decision after hearing several tenants "worried, crying" about how they are having trouble making ends meet due to the coronavirus crisis. "I want everybody to be healthy," he said. "That's the whole thing."
It's a gesture that is obviously appreciated by the people living in his buildings.
One of those, salon owner Kaitlyn Guteski, gushed that the rent forgiveness is a "game-changer" for her. After she had to shut down her salon, she didn't know how she'd piece together this month's rent. "Oh great, I have to pack up and move back in with my parents.' Nobody wants that," she recounted her worries, with a laugh. Fortunately, she won't have to resort to that yet, thanks to Salerno. "He's Superman. He's a wonderful man."
Paul Gentile, a tenant who lost his job in March due to the pandemic, said the note from Salerno surprised him but didn't shock him — in the four years he's lived in one of Salerno's buildings, he's always been happy to help. "You don't see that, especially in a landlord-tenant relationship in New York City. He's amazing," Gentile shared with The New York Times.
Although the move is likely setting Salerno back hundreds of thousands of dollars, he isn't interested in talking about his own financial repercussions. He told NBC News that his primary concern right now is the wellbeing of his tenants and his community.
That attitude lies in stark (and disheartening contrast) to stories coming out of other states. In fact, in my home state of South Carolina, Governor Henry McMaster is reportedly still collecting rent from the estimated 200 tenants living in the roughly 20 rental properties he personally owns, per the South Carolina newspaper The Post & Courier.
But hey, maybe McMaster and other landlords like him will read Salerno's story and will be inspired to offer a temporary reprieve on rent. Outside of helping his own tenants, Salerno says his main hope out of his story being publicized is that it might create a trickle-down effect in the industry.