BSB And *NSYNC Members Recreate Iconic 'Friends' Scene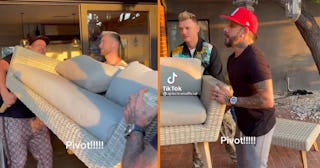 AJ McLean/TikTok
If you love 'Friends' and '90s boy bands, this video is for you
If your '90s heart is strong, you're gonna love everything about this. Members of Backstreet Boys and *NSYNC just performed a special concert in Los Angeles where all proceeds benefitted the Trevor Project and L.A. Pride and, in the process, filmed some hilarious moments together. One such video put out by AJ McLean shows himself, Joey Fatone, Lance Bass, and Nick Carter recreating the legendary "Pivot" scene from Friends.
McLean posted the hysterical video on TikTok, saying, "Best show beat scene ever!! Let's go!" where the four absolutely nailed the couch moving scene from Friends.
But the foursome — which they've dubbed Back-Sync — isn't stopping there. They've also floated around Vegas engagements, joint music collaborations, and movies, according to Variety.
"This has been a long time coming," McLean said during rehearsals. "Everybody's wanted us to do something together and now we get to come together for an amazing cause."
Fatone added, "It's interesting to have the four of us knuckleheads do something together, which you've never seen before. BSB fans are very loyal, so we're going, 'We get it – certain people liked one band or the other back in the day, but now it's okay to like both.'"
"Twenty years ago? Hell no!" Carter added of fan's loyalty to one band or the other. "I'm kidding, because I still don't understand why we didn't get an opportunity to do more things together, but we learned that it was managers and stuff happening behind-the-scenes that prevented it. Better late than never, right?"
Leading up to their performance in L.A., they rehearsed together at one of their houses and have been posting tons of content on social media.
"Teaching @backstreetboys the #ByeByeBye dance was a trip!" Bass wrote on Instagram. Isn't this all of us practicing this dance with our friends?
"It just fits," added McLean of the new collaboration. "Not that that the five of us [Backstreet Boys] don't work because we obviously do, but it's a different feeling. It's like when you've been in the same relationship for a long time, take a break, meet somebody new, and it's fresh and exciting!"
In addition to their performance, they also presented a cryptocurrency check for $1 million dollars to the Trevor Project, on behalf of their involvement with cryptocurrency project Mission Tsuki. The Trevor Project is a nonprofit organization focused on suicide prevention among lesbian, gay, bisexual, transgender, and queer youth. They run a hotline with trained counselors giving young people a chance to talk to someone about how they are feeling.
We're 100 percent here for any and all performance they do in the future. We need more boy bands in our lives.
This article was originally published on