Bubble Masks Are The Science Fair Experiment Your Face Needs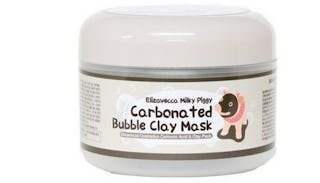 Amazon
Hot. Diggity. Damn. Carbonated bubble masks are amazing. And bananas. And I love it.
I just needed to get all of that out of my system because I used one for the first time, and if I was Oprah, I'd be jumping up and down yelling "Favorite things!" and "John Travolta!"
That is how into this mask I am.
If you are unfamiliar with bubble masks, they're big in Korea, as are most outstanding beauty products. Koreans have that whole face thing on lock. The mask is made to react with oxygen, so once you spread it all over your face, you start to feel all this fizzing and bubbling on your skin. It can be kind of intense. The best way I can describe the overall sensation is it's like you made a science fair volcano in your pores. It gets deep in there and cleans them out. More on that later.
After I applied the mask with a facial brush, it started working immediately. And because it's bubbling, you end up with a giant sheet of foam over your face. It's pretty hilarious. This is a good time to pop out of the bathroom and scare the bejesus out of your children.
Once you've applied the mask, you only need to wait five minutes before it's worked its magic. I hate waiting on masks, so that was a big bonus for me. After your timer beeps, you can rub in the mask to make it even more effective before you rinse it off.
I didn't think it could get more fun than a foam party rising up on your face, but rinsing this off was incredible. My skin felt soft, smooth, and so clean. You're going to do a lot of face-touching after this is all done. All those pore volcanos? It is noticeable that this is a different kind of clean than most masks leave. After a mask, my skin usually feels clean and tight, and I love it. But now it feels Clean. Capital C. So. Clean. It's the first time I've felt like a product delivered on a deep-clean promise.
Bubble masks are going to be a staple in my beauty regimen, for sure. I'm going to go touch my face some more now.
This post contains affiliate links, which means we receive a small portion of the sale if you make a purchase using these links.
This article was originally published on