Video Shows Police Pushing Elderly Man To The Ground During Protest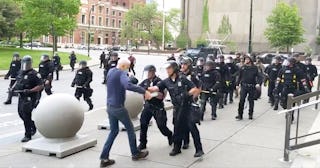 MikeDesmondWBFO/Twitter
Two police officers have been suspended without pay after shoving an elderly man to the ground and making him bleed
Update, 2:15 p.m. ET, June 6: On Saturday, Erie County District Attorney John Flynn announced that Aaron Torgalski and Robert McCabe were charged with assault in the second degree, a Class D felony. Both pleaded not guilty to the charges, which are felonies due to the age of the victim Martin Gugino, who is 75. Each officer faces a maximum penalty of seven years behind bars.
"It's black and white in the letter of the law," Flynn said. "It says right there, anyone who's a victim 65 years or older and the perpetrator is [at least] 10 years younger — it's a felony."
Additionally, after McCabe and Torgalski were suspended without pay, all 57 members of the Emergency Response Team unit resigned on Friday and sought reassignment within the department, NPR reports.
Original story:
Two Buffalo police officers have been suspended without pay today after a graphic video showed them pushing a 75-year-old man to the ground. The victim is now in the hospital in serious but stable condition. After being shoved, the man struck his head on the sidewalk and lay in the street, completely immobilized and bleeding from his right ear.
A spokesman for the Buffalo Police Department confirmed to CNN that the officers involved were suspended. In the video, however, over a dozen officers walked past the elderly man after he was struck — appearing not to call for help or stop to assist him. This viral video marks the latest evidence in a string of violent incidents initiated by police nationwide.
The footage was shot by local NPR affiliate WBFO. In it, the man was walking up to uniformed officers in Buffalo's Niagra Square during an anti-police brutality demonstration in honor of George Floyd. The officers can be heard shouting "MOVE!" and "Push him back!" as one officer, who has been identified as Aaron Torgalski, pushed the man while another officer shoved his baton at him. The man fell to the ground and smacked his head on the pavement. Many officers walk past the man while he's in distress, while a voice in the background — presumably the WBFO reporter — shouts to call for a medic.
In an initial statement, Buffalo police said that the man "tripped and fell." After the video began widely circulating on social media, Police Commissioner Byron Lockwood said that two officers were suspended. The victim, Martin Gugino, was eventually taken to a hospital where he is currently in "stable but serious condition," according to a statement released by Buffalo Mayor Byron Brown.
"Tonight, after a physical altercation between two separate groups of protestors participating in an illegal demonstration beyond the curfew, two Buffalo Police officers knocked down a 75-year-old man," Byron's statement reads. "I was deeply disturbed by the video, as was Buffalo Police Commissioner Byron Lockwood."
Brown says an investigation was initiated immediately after he and Lockwood viewed the video. "After days of peaceful protests and several meetings between myself, Police leadership, and members of the community, tonight's event is disheartening. I hope to continue to build on the progress we have achieved as we work together to address racial injustice and equity in the City of Buffalo. My thoughts are with the victim tonight."
Buffalo police spokesman Capt. Jeff Rinaldo said he believes the man's injuries include a laceration and "possible concussion," while Erie County Executive Mark Poloncarz said it was a "serious head injury."
This article was originally published on