Buffalo Wild Wings Fires Employees Who Asked Black Family To Move For White Couple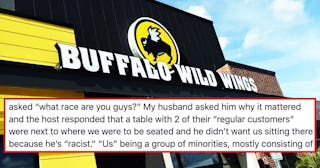 Mary Vahl/Getty and Rick Diamond/Getty
Buffalo Wild Wings faces backlash after employees allowed racist customer to demand a black family not sit near him
Buffalo Wild Wings has fired two employees after they asked a group of diners to move tables because another customer seated next to them didn't want to sit next to a table made up of mostly people of color.
Naperville, Illinois resident Mary Vahl posted about the experience her family and friends had at a local Buffalo Wild Wings. She said when her party of 18, who she described as "a group of minorities, mostly consisting of African Americans," arrived she was told one of their "regular customers" didn't want to be seated next to them because of their race.
Vahl said her party was undeterred, telling the host they didn't want to give the man the satisfaction of moving because of his comfort level and to please continue setting up their table where they started. You'd think that's when this entire obscene situation would've ended but Vahl wrote that after ordering a few things for the table, they were told another table was being set up for them and they had to move. She said they refused.
"How is an establishment ok with serving people who try to control which types of people sit around them?! It was not ok that a person of management was willing to move 6 adults and 12 children versus 2 grown adults who are uncomfortable sitting by black folks!!" Vahl continued on Facebook.
She said she asked to speak to a manager who made "excuses" for why their party had to switch tables, saying another party of 18 may have already reserved the table. Vahl also said the waitress admitting to knowing the other customer was "a racist because he's a regular."
Vahl said after dealing with this and not getting straight answers from the staff, she and her party decided to leave after feeling appalled by the way they were being treated. "If you don't want to sit next to certain people in a public restaurant then you should probably eat dinner in the comfort of your own home," she wrote. "A moment to hangout with a group of friends after a birthday party, turned into a discussion with our young impressionable sons about how we didn't get kicked out, but willingly CHOSE to leave because of the unfair treatment we were being given."
She went on to thank Hooters, the restaurant they eventually dined at, for treating them with the respect they deserve. "Thank you," Vahl said. "For serving our group and the patrons of Hooters for not being close-minded people that would ruin the night of others."
The company "values an inclusive environment and has zero tolerance for discrimination of any kind," a spokesperson said in a statement to WBBM after firing the employees.