Build-A-Bear Is Holding Their First 'Pay Your Age Day' And We're So Here For It
by Julie Scagell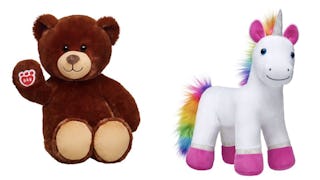 Image via Build-A-Bear
Run, don't walk, into a Build-A-Bear store this Thursday, July 12
Build-A-Bear Workshop is holding their first-ever "Pay Your Age Day" which means customers pay their age for a furry companion for one day only. Parents — it's time for a dance party.
If you've ever taken your kid to Build-A-Bear store, you know these suckers aren't cheap. The animals themselves will run you from $10-25 but it's the accessories that can really add up. And it's highly unlikely your bear is leaving that store without a sunhat and a "Pawsport" (because you just never know when you'll need to jet off to Spain for the weekend).
But this Thursday, July 12 whatever animal your little one's desire will only be the age they are in dollars. That's right, folks. If your kid is two years old, you pay $2. Have twin three year olds? That'll be $6 total. Have a two, four, and seven-year-old? No problem, they can each get a fluffy friend and you only shell out $13 total. I think you get the drift, or at least I hope, because this is where my math skills kind of stop.
As always, the retailer has some pretty paw-some pals right now, and this deal includes their popular licensed characters, like those from Star Wars, Marvel, and even Incredibles. So, you can build your very own hammerhead shark just in time for Shark Week; any one of the My Little Ponies (obviously Shimmer is Queen); or keep it old-school with one of their magical unicorns (but please don't forget the rainbow high-tops).
If you're older than the cost of the furry friend (ahem) but are still a kid at heart (omg they have a sloth and a corgi available), don't sweat it. According to their website, no one will be a "day over 29 years old–meaning no matter their age, guests will pay no more than $29."
"We have overwhelming data that indicates Build-A-Bear is synonymous with childhood, and nearly one-third of our sales are associated with birthdays," said Sharon Price John, president and chief executive officer, Build-A-Bear Workshop. "We 'heart' birthdays at Build-A-Bear, so we're hosting the Pay Your Age Day to launch our year-round 'Count Your Candles' offer for Guests celebrating a birthday with us in stores—an experience we designed especially to commemorate birthdays in a memorable way."
Of course the accessories are still sold separately but with the money you save on your plush, you can actually afford some of those Trolls hair extensions without taking out a second mortgage on your house.
To participate in the Pay Your Age Day, parents or guardians have to enroll in the Build-A-Bear Bonus Club rewards program (which is free) and provide a valid email address and name, which seems like a pretty fair trade. Obviously the person paying his or her age must be present at the time of purchase, so grab a bunch of one-year-olds and get busy creating!
Understandably, lines will be out the door on Thursday but they have you covered here, too. If it's too busy, Build-A-Bear will allow shoppers to purchase an unstuffed animal and return to "build" it another time, all for the price of your age.
Any plans you thought your had this Thursday have officially been cancelled. Happy building.
This article was originally published on