Build-A-Bear Shuts Down 'Pay Your Age' Sale Because Sh*t Got Crazy
by Cassandra Stone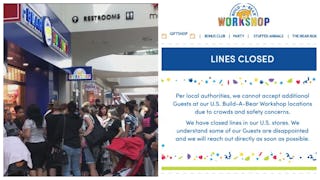 Image via Twitter/ABC7 Eyewitness News/BuildABear.com
Build-A-Bear workshops had to close down due to massive crowds and angry customers
Amid a feverish craze not seen in malls since the height of the Beanie Baby days, Build-A-Bear workshops all across the U.S. had to shut down early yesterday because crowd sizes became unmanageable during their first "Pay Your Age" event. We're talking thousands of people lined up before the stores even opened levels of insanity.
Literally just hours after it began, the sale event was forced to shut down because of the chaos erupting in stores everywhere. The promo offered customers the chance to buy any of their stuffed animals for the amount of the age of the purchaser — meaning a two-year-old's bear would be $2. Which is a total steal, considering their toys normally range in price from $20-35.
But because we can't have nice things, people flocked to the stores with Black Friday levels of fervor and adults started physically assaulting each other and small children everywhere couldn't hold their pee in a 600-people-deep line. Stores were forced to shut down super early, with the store citing safety concerns due to crowd size.
Just…total insanity.
"Per local authorities, we cannot accept additional Guests at our locations due to crowds and safety concerns," Build-A-Bear said in a statement. "We have closed lines in our U.S. and Canada stores. We understand some Guests are disappointed and we will reach out directly as soon as possible."
So people did what people do best in situations where they're unhappy with service they receive — they took to social media.
Because I'm a masochist by nature (read: I had time to kill and am constantly plagued by FOMO) I decided to take my two-year-old to our local mall about a half-hour before the Build-A-Bear store opened. Because I'm a smart masochist, I didn't tell her where we were going or why just in case we weren't able to actually build said bear (yes I know I can get away with this because she's only two). I walked in, saw a line of at minimum a thousand people wrapped around the entire length of the mall, cackled, shook my head, and said "wanna go to Target?" Because SCREW THAT NOISE. Call me when it's "Free Trip To Disneyworld Day" or "Pay Your Age In Apple Products And Supportive But Pretty Bras Day" at the mall. For a stuffed animal my kid will play with twice a month? The hardest of passes. But you do you, y'all.
The "Pay Your Age" event could have been a great deal for people who can't afford to drop $30 on a stuffed toy, and it's a shame if those families didn't get a chance to take advantage of the promo. The good news out of this whole mess is that if you missed the event, you can print out a $15 voucher on their site. You just need to set up a free Build-A-Bear account and the voucher is yours.