Build-A-Bear Just Released A Plush Grinch In Time For The Holidays!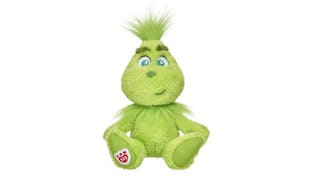 Image via Build-A-Bear
Build-A-Bear is releasing a plush Grinch for Christmas
Let's get in a circle and all hold hands and sing, because Build-A-Bear has released a plush Grinch, plus adorable accessories, in time for the holiday season. Tied to the new How The Grinch Stole Christmas movie, The Grinch, the little guy has a mischievous smirk that could belong to the small-hearted Grinch or the big-hearted Grinch, and an official The Grinch logo on his hand.
This might be the best thing Build-A-Bear has done since they gave us unicorns.
The stuffy himself sells for $25.50, while his Santa suit (which includes a hat, a coat, and booties) goes for $16.00. You can also add a sound box that rotates through six Grinchy sayings for $7.00. The whole set can be purchased for $48.50.
The Grinch hits movie theaters this Friday, November 9, and stars Benedict Cumberbatch as the voice of the sly green guy. It's a fully-animated retelling of the Dr. Seuss tale and holiday classic. Pharrell Williams will narrate the film, and Angela Lansbury will play the Mayor of Whoville.
The little Grinch Santa suit is honestly too cute for this world.
The Grinch Build-A-Bear line also includes a pre-stuffed baby Grinch, which is also ridiculously adorable and carries a lower price tag, at $12.50.
The collection also includes A Happy Hugs Teddy TeamGrinch gift set that includes a Grinch-themed sweatshirt, a pair of denim jeans, and the absolute cutest Grinch slippers.
Like, look at this adorableness.
Also for the holidays, Build-A-Bear is releasing a Polar Express bear, based on the beloved holiday children's book. The snowy blue bear comes with an accessory pack that includes a robe, yellow jammies, and a silver bell that really works.
Both holiday stuffies are available now.
This article was originally published on