Build-A-Bear Has A 'Toy Story' Line, So Let's Go To The Mall ASAP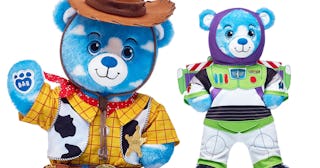 Build-a-Bear
Before Toy Story 4 hits theaters, it's pretty much required to celebrate with a new Build-A-Bear
It's not that I have anything against adults who are into plushies. They're soft and comforting and I get the appeal, but they just don't really appeal to me. That might be about to change now that Build-A-Bear has unveiled its line of plushes and outfits for the release of Toy Story 4. Sorry, not sorry, this grown woman is heading to the mall, stat.
RELATED: Best Disney Toys To Keep Kids Living Their Most Magical Lives Right At Home
Seriously, though, these bears and outfits are so cute, kids and adults alike are going to go nuts for them. We're just a few days away from June 20, the day that the next Toy Story movie hits theaters, and what better way to get in the Disney mood than by getting an adorable new friend who's dressed just like Woody?
The basic TS4 bear that's been released with the line is this guy, whose cloud pattern fans will recognize from being the same as what's on the wallpaper in Andy's room.
You can order him dressed in a bunch of different costumes that are nods to the movies, like this Woody get-up that definitely makes him look like the rootinest, tootinest cowboy in the Wild, Wild West. This one can be customized with a voice box that comes pre-programmed with some of Woody's most iconic sayings, just like in the movie (except way cuddlier).
If you're more of a Buzz Lightyear fan, there's a costume for that. You can order the special Toy Story bear already dressed in it, or put the costume on any of Build-A-Bear's other available plushies. That's one of the things we love about Build-A-Bear — you can customize these things pretty much to infinity and beyond.
There's also, of course, a Bo Peep costume, which, as the Build-A-Bear website demonstrates, looks amazing on Pawlette the rabbit.
If you (or your kids) already have a beloved Build-A-Bear plush at home and just want to pick up some TS4 themed outfits to dress up your best friend in, you don't have to buy any of these costumes as a set with a bear. You can get them on their own, too.
Plus, there are a few cute TS4 outfits that aren't character costumes, but will still look awesome on any bear, like this "Play Time" tee shirt that features a graphic image of the entire gang from Andy's room.
If your bear is looking for something a little more snuggly, how about these adorable alien pajamas that we definitely wish came in adult human sizes?
And just because they're maybe the cutest thing in the entire line, look at these tiny Woody cowboy boots you can buy for your snuggly friend.
Toy Story 4 hits theaters at the end of this week, and it'll only be better if you have a plushie to snuggle through the parts that will definitely make you cry.
This article was originally published on