Build-A-Bear Now Has A Unicorn And We'll Take A Dozen, Thanks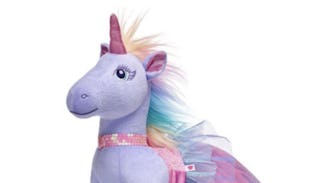 Image via Build-A-Bear
You don't think unicorns exist? Excuse us while we go to Build-A-Bear and create one before your very eyes
Are you getting tired of wearing your adult unicorn slippers, watching your VHS tape of The Last Unicorn on repeat, and floating around on your giant unicorn pool float? Are you getting even more tired of people who say that unicorns aren't even real?
Well, today's your day. Build-A-Bear has realized what the people want. And what the people want is the opportunity to create and own stuffed unicorns wearing rainbow dresses.
The magical hoofed creature is part of Build-A-Bear's new Beary Fairy Friends Collection, which is generally pretty adorable.
Look at this beauty all dressed up.
Sure, bears are great. And building bears from scratch in a mall and then dressing them in little outfits can also be fun, especially for children who don't know any better. But creating a unicorn with your own hands by injecting it with fluff?
Yes, we want to do that.
Besides the majestic unicorn, the collection features a beautiful pink and purple bear fairy with light-up wings and a light-up dress, though please note that this bear is not in any way a unicorn.
The collection also includes a hip bunny rabbit with a tutu and light-up wings who is wearing a unicorn shirt. Sorry — it's close, but it's absolutely not a unicorn.
The 15-inch "Enchanted Unicorn" starts at a base price of $25.00–this will get you a plain, naked unicorn, complete with pink sparkly horn and rainbow mane. Even without the dress this thing is freaking precious and we need it.
But you don't want to shame your unicorn by having it prance around naked, of course. Build-A-Bear suggests adding a sequined and tulle dress for $15.00, and then a pair of light-up wings for $12.00. The site also suggests adding a rainbow sparkle leash and collar for $5.50, but that's obviously a mistake as unicorns are wild and free, with hearts that can't be tamed.
If your fully decked-out unicorn is still not enough for your senses, you can also add magical 3-in-1 Fairy Sounds or a Sugar 'n' Sparkle scent to your mythical beast so that you have a total unicorn sensory experience.
"Our adorable new Beary Fairy Friends collection is inspired by acts of kindness, and the intrinsic value of being friendly and helpful to others," said Jennifer Kretchmar, the chief product officer at Build-A-Bear Workshop. "We hope this line inspires Guests to use creativity and imagination to find their heart and their wings, do good deeds for others and make a Beary Fairy Friend uniquely their own to bring along on their journey."
The intrinsic value of being friendly and helpful to others is totally great, but: just hand over our beautiful unicorn toy, please.