Bulletproof Backpacks Are Selling Out In Some States
by Cassandra Stone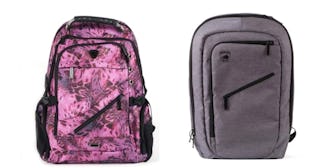 GuardDog.com
It's a sad reality that bulletproof backpacks even exist for kids to wear
Bulletproof backpacks can now be found in stores in multiple states across the U.S. this back-to-school shopping season. Because this is where we're at in the United States, amid multiple school shootings each year and complete inaction on the part of our government to do anything notable regarding gun control.
Guard Dog Security is the company making the backpacks, and they range in typical, kid-friendly styles and terrifying, plain black Kevlar-esque designs. They're currently being sold at OfficeMax, Office Depot, and Kmart.
"It's a very tightly woven fabric, it's similar to what people might think of as Kevlar, it's lightweight," Guard Dog CEO Yasir Sheikh tells Fox 35. After the 2018 mass shooting at Marjory Stoneman Douglas High School in Parkland, Sheikh says the demand for bulletproof backpacks increased.
"After the Parkland incident, we sold out six months worth of backpacks in a few days, so now, of course, we've stocked accordingly, and we're prepared for anything, whether it's a spike in sales or back to school," he says.
Parents and fellow backpack shoppers are seeing these in the "back-to-school" sections of the aforementioned stores.
Snopes reports that these backpacks may provide protection against handguns, but they aren't entirely "bulletproof" as they weren't officially certified by the National Institute of Justice.
According to The Washington Post, there were 24 school shootings with injuries and deaths in 2018. In February, 17 people were killed in the Parkland shooting and just three months later, eight students were killed at a shooting in Santa Fe, Texas.
Some schools have responded to the epidemic of gun violence by choosing to arm teachers and staff. Florida teachers, for example, can now carry guns in school, thanks to a bill passed this week by state lawmakers. The new law expands on an existing school "guardian program" that allows a teacher to volunteer to carry a weapon if their local school district approves.
A shocking report from Indiana earlier this year: teachers in an elementary school were four at a time taken into a room, told to kneel down, and shot execution-style in the back of the neck with "some sort of projectile" that resulted in injuries "to the extent that welts appeared, and blood was drawn" as part of an active shooter drill.
New York's Governor Cuomo has gone the opposite route — he recently signed a bill forbidding school districts from allowing teachers and administrators to carry guns.
And while our elected officials refuse to take major steps in coming up with better gun control laws like universal background checks and better waiting periods and requirements, we've got bulletproof backpacks for elementary students.
It's a sad reality, to be sure. But what else is there to do when people in charge care more about guns than they do the lives of children? And if our politicians are showing us all that profiting from the NRA is acceptable, it's hardly a surprise backpack companies would take a cue from them and capitalize off the murders of innocent children by charging parents $130 for something that could potentially provide protection from stray bullets flying down their child's school hallway.
It's just another way we're failing children in the U.S. and finding ways to normalize horror.
This article was originally published on