Bullshit-Free Newborn 101
by Leigh Cocanougher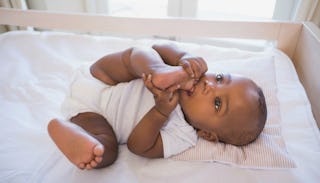 wavebreakmedia / Shutterstock
Between the bazillion pregnancy-and-baby books and the bazillion pregnancy-and-baby blogs and websites, there's no shortage of "Newborn 101" tips for soon-to-be-mothers. Sleep when your baby sleeps. Nurse 8 to 12 times a day. Accept all offers of help. Stock your freezer before your due date. Don't try to sleep-train a newborn. The list goes on and on and on.
And yet, no matter how many books, blogs, podcasts or videos you study while you're pregnant, life with a newborn—especially your first newborn—is nothing you can ready yourself for. You're joining the world's best sorority with the world's toughest hazing, and it doesn't make one bit of difference how many frozen meals fill your freezer or how many sizes of clothes and diapers you have ready and waiting—you have no idea what you're in for.
It's difficult, though, to tell your friends who are soon to become first-time moms this hard truth. So, as more and more of my friends join the baby bandwagon, I've come up with some advice that isn't found on all those bazillion sites and in all those books—real advice from a mom who's been through the newborn-baby battle before (twice).
1. Stockpile tissues, because you will cry a lot—maybe not as much as your baby, but close, and often for absolutely no reason that you can discern. Your hormones are wreaking havoc on your body, your mind, and your emotions, and you are at their mercy. But know that it won't be long before those internal enemies will settle the eff down, and you will stop breaking out in tears at cell phone commercials (or when you sing the opening song from The Lion King to your baby).
2. Put your cloth diapers in storage. I don't care how environmentally and/or financially beneficial they are—you aren't going to use them on a newborn. First of all, you have no idea what newborn poop is like, but you will soon, and you won't want it on your cloth diapers. Second, the last thing you're going to want to do as a new mom is wash cloth diapers every day. Save them for when you have a mature and self-reliant 3-month-old.
3. Invest in some good nursing pads, because, especially during the first few weeks, your milk is gonna let down in even the most unexpected moments, like when you hear a toilet flush or see a cat across the street (true story and true story).
4. Don't change diapers anywhere but on your changing pad, even if it would save your exhausted self a trip upstairs to the nursery. Because your newborn loves nothing more than to pee and poop during a diaper change.
5. Wash your hair, or at least take a shower without washing your hair. Nothing restores you to humanity like a hot shower, so strap that little one into your fancy new bouncy seat and let him or her keep you company while you make yourself presentable/human again.
6. Leave your house, every single day, even if you didn't follow tip No. 5. Even if it's just for a 10-minute stroll around your neighborhood, putting on "real" clothes (I'm looking at you, worn-out bathrobe and practical-but-hideous nursing bra) and getting some fresh air (or a fresh latte) does a world of good for a new mama.
7. Stop reading already. Not your page-turning novel or Bon Apetit, but all those parenting books and websites and message boards and blogs that you have already spent countless hours studying. (And yes, I realize the irony in writing a parenting piece with advice to stop reading parenting blogs.) Just put them the heck down for a few days. There is such a thing as too much information, and the contradicting advice (about newborn sleep, newborn poop, newborn belly button care, newborn nursing techniques) will only confuse you as you figure out your new existence.
8. Drink a beer, or a glass of wine, if you want. No, no one is telling you to down a pint of bourbon, but all those bloggers and baby "experts" telling you that you can't have a sip of alcohol while you're nursing are full of it, or have never had a newborn themselves. Maybe a beer helps with your breast milk supply and maybe it doesn't, but really, who cares at this point? One just might be the saving grace in your struggle with postpartum life.
9. Be a badass boss. Yes, you've already read that you should say yes whenever someone offers to bring meals, wash laundry, do your grocery shopping, etc. But what about those times when you desperately need eggs and milk and can't get to the store? Ask. People truly do want to help but might not know how to offer without offending you, so tell them what you need and don't feel one second of guilt for having them do your bidding. You have your own responsibilities to tend to.
10. Take a break from your baby. BC (Before Children), you can never imagine that a 20-minute grocery store trip would seem like a holiday. As a new mom, though—no matter how much you adore spending time with your littlest love—you can use some "me" time. It's amazing how something as seemingly tedious as running to the post office can become a great escape when you are, temporarily, at no one else's beck and call.
11. Live in the present. That doesn't mean you always enjoy the present, like when you don't follow tip No. 2 and end up cleaning up your baby's number two from your carpet. But try not to wish away your child's first weeks. Yes, those weeks are harder than you would have ever imagined, but all the baby books and blogs weren't lying when they said that your baby's "babyhood" passes in the blink of an eye. When your little one turns 3 and you cry (and can't even blame those damn postpartum hormones) because you have a true "big kid" who's no longer any bit a baby, you will wonder where the time has gone. And you may even miss those newborn days (especially when the "threenager" tantrums begin).
Now, stop reading, wash your hair, and get out of the house for a while.
This article was originally published on