Bumble Founder Sent Threats After Dating App Bans Gun Photos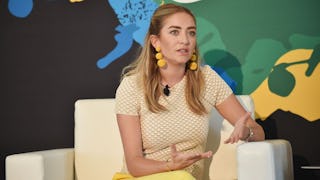 Image via Bryan Bedder/Getty Images for Ozy Fusion Fest 2017
Bumble founder, employees harassed after app banned gun pics
After the dating app Bumble banned photos of guns across its platforms the founder of the company and her employees started receiving threatening and harassing messages. Because threatening someone is a completely fine response to a decision you don't agree with. Oh, wait, no it isn't. The threats were so severe that police have had to station officers at Bumble offices.
Bumble founder Whitney Wolfe Herd was asked about the decision she made to ban gun pics following the tragic school shooting in Parkland, Florida. "It's polarizing and we had to have police at our office for several weeks. I was getting emails saying 'I'm gonna show my glock and my you know what [genitals],' with literally a picture of the glock and the other thing. It was, 'We're coming for you, we know where your office is,'" she explained to Joanna Coles, the chief content officer at Hearst Magazines, during a panel interview at Cannes this week. She added: "Our team members were getting harassed. It's been really wild."
The site, which launched in 2014, was initially created to help women take control of their online dating options, but quickly blossomed into an application that also helps people network and find friends. It doesn't seem imperative to show photos of your guns to strangers when you're finding a new friend, co-worker, or romantic partner. So it wasn't that shocking when the site decided to eliminate gun pics from its site. Especially in the wake of an endless barrage of mass shootings. The site announced its decision in March following the devastating shooting at Marjory Stoneman Douglas High School in Parkland, Florida.
"As mass shootings continue to devastate communities across the country, it's time to state unequivocally that gun violence is not in line with our values, nor do these weapons belong on Bumble," the company wrote on its blog. "From today on, we will begin the process of moderating all new and previously uploaded photos for the presence of guns." Bumble did make an exception for users who were photographed in military or law enforcement uniforms. And because Bumble felt so moved to help end gun violence, the company also donated $100,000 to March For Our Lives, the nonprofit founded by the Parkland survivors. "We stand with them, and join them in working towards a non-violent future," the company shared.
Despite our national school shooting death toll being higher than those killed in the military, people still freaked out over Bumble's decision. "It pissed a lot of people off, but it was the right thing to do," Herd said. "We have a lot of people on our team that are responsible gun owners. I'm from Texas … Our brand values are equality, empowerment, kindness, and accountability. Do guns fit that bill? No. The majority of women that die from domestic abuse every year is from guns. So why would we want to romanticize that?"
This article was originally published on