12 Bunny Coloring Pages Sure To Make Your Kiddos Very Hoppy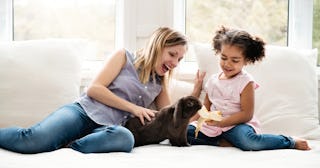 manonallard/Getty Images
'Tis the season for bunnies! Not only does spring mean that bunnies will start scurrying all over your yard, but the bunny is more or less one of the biggest icons of the Easter season. Well, we've got just the thing for you! Bunny coloring pages are a great add-in to any Easter basket. And if they're not directly in the basket, you can use these free printables throughout the day to entertain kiddos amped up on sugar.
You might be thinking, wait, bunnies aren't super-colorful. That's what makes bunny coloring pages so much fun, though — these bunnies can be any color you want. Sure, many in the wild appear to be light brown. But thanks to countless cartoons (we're looking at you, Tiny Toon Adventures) they can also be blue or pink without looking out of place. Besides, spring is the perfect time for pastel-colored bunnies. The whole season is about renewal and birth, and it makes sense to choose cheerful colors.
As luck would have it, ScaryMommy has 10 great bunny coloring pages available for download. Print off these fun pages to help entertain you and your family this Easter and make your kids hoppy, er, happy all year long.
Free Bunny Coloring Pages
Bunny No. 1
Everyone knows that any bunny's favorite food is carrots. In fact, if it weren't for the influence of bunnies, many of us might have additional difficulty feeding our kids vegetables. This rabbit would look adorable in a light yet bold blue. Yellow would also be a good choice. And if you're looking to deepen your child's interest in rabbits, introduce them to cartoon rabbits like Bug Bunny, Thumper from Bambi, Roger Rabbit, and the Energizer Bunny!
Bunny No. 2
This peanut-shaped bunny looks like she's scampering off for a mission. Maybe she's getting ready for Easter in her bunny burrow. This makes a fantastic bunny coloring page for a toddler or someone who's just learning their way around crayons and colored pencils.
Bunny No. 3
This bunny spreads a lot of love and joy and would be great for the colored pencil enthusiast in your household. Based on its design, the budding artist in your family can really make it pop and give it a life of its own. Since it includes so many flowers, this page offers a great excuse to break out all of your colors. And just look at its cute little tail. That fluff of white is more than a delightful feature. When bunnies run from predators, their white tails make it harder for predators to focus on their target.
Bunny No. 4
Looking for a bunny coloring page with a sense of humor? You can just tell this guy is a comical character. With his expression and sly smile, he's likely off to Easter brunch with his bunny family. At least, that's the story you could tell by turning that bow into a bowtie. If you want to make this bunny a bit more sweet and fluffy, you can color him in off-white and make his bow a pink, light blue, or lavender shade. His ears are just as long as Bugs Bunny! Fun fact: The first voice actor ate carrots while recording his lines for the cartoon. (Talk about dedication.)
Bunny No. 5
The upturned tail makes this more of an Easter bunny than the rest. While this bunny would also benefit from pastels, you could try coloring it in a light gray or silver if you'd rather make it a dapper rabbit. We also think he looks a lot like the cutie, Thumper, who is actually Roger Rabbit's uncle. He made an appearance in Who Framed Roger Rabbit.
Bunny No. 6
This simple little bunny seems happy to embrace the spring grass and flowers that'll soon be sprouting around its home. For this page, you can get more creative with it and ask your toddler to draw in some grass or a sky in the background. Although this bunny is super cute, here's a super gross fact: They eat certain droppings that they poop called cecotropes. It's filled with a bunch of nutrients that are good for their development.
Bunny No. 7
What's better than an Easter bunny with a gift? Sure, this egg looks better than anything that anyone could make at home (no offense, PAAS), but surely the bunny will be the professional when it comes to egg dyeing and decorating. You can try gold or silver on this bunny's bow to make the page even more dynamic.
Bunny No. 8
This bunny looks like he's right out of a cartoon strip! Why not try coloring him in a rainbow hue? Be adventurous with it. We recommend drawing in a fun background. Maybe he's spending his Easter holiday at the beach?
Bunny No. 9
Simple and sweet, this little baby bunny would look adorable in light pink, blue, yellow, purple, or green. While your kiddo is coloring, share this sweet fact with them: Bunnies sometimes hop around and flick their heads and feet to express happiness. This behavior is known as a "binky." Aww! And like cats, bunnies hate water. They think it's scary and they easily catch colds from baths.
Bunny No. 10
Finally, this bunny seems best equipped for a novice artist. There are many small details that'll make it an engaging afternoon project.
Bunny No. 11
Imagine this bunny was made of chocolate! Did you know more than 90 million chocolate Easter rabbits are made each year? About 60 million of those yummy bunnies are eaten in the United States. That sure is a lot of chocolate.
Bunny No. 12
Here's a quote just as beautiful as this rabbit above. John Steinbeck once said, "Ideas are like rabbits. You get a couple and learn how to handle them, and pretty soon, you have a dozen."
Click here to print all of the bunny coloring pages at once!
This article was originally published on