People Are NOT having Burger King's Sexist 'Women's Day' Joke
by Julie Scagell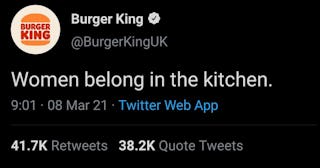 Burger King/Twitter
The fast food chain has since apologized
Burger King dropped a new ad for its International Women's Day campaign but their message fell as flat as a burger patty because of its headline slogan: "Women belong in the kitchen."
The goal was to introduce a scholarship fund for female chefs as a goal to get more women chefs in the industry but the marketing of this particular movement missed the mark for many who saw it, both from their UK social media account and also appeared in large type in a full-page print ad in the New York Times. They eventually deleted the tweet but unfortunately the full-page ad isn't so easily removed.
The original tweet was quickly followed up with: "If they want to, of course. Yet only 20 percent of chefs are women. We're on a mission to change the gender ratio in the restaurant industry by empowering female employees with the opportunity to pursue a culinary career." Unfortunately, the tag line did not go down well for many who saw it.
The message meant to promote the Burger King H.E.R. (Helping Equalize Restaurants) Scholarship, which, according to the chain, "has awarded more than $3 million in scholarships to support female team members in achieving their educational goals."
The company issued an apology later in the day but the damage, unfortunately, had already been done. "We hear you," Burger King U.K. tweeted. "We got our initial tweet wrong and we're sorry. Our aim was to draw attention to the fact that only 20% of professional chefs in UK kitchens are women and to help change that by awarding culinary scholarships. We will do better next time."
The company said in an emailed statement to Insider that, "Our tweet in the UK today was designed to draw attention to the fact that only a small percentage of chefs and head chefs are women. It was our mistake to not include the full explanation in our initial tweet and have adjusted our activity moving forward because we're sure that when people read the entirety of our commitment, they will share our belief in this important opportunity."
Given the harassment and gender inequality women still face every day in the workplace, taking a cheeky approach to what looks like a good cause is harmful and embarrassing. If you want to know how to help women, listen to them. Let them be a part of these discussions. Don't assume people will think this is just a pithy marketing ploy because it degrades what you are trying to accomplish.
Apology or not, this ad will be what people remember for some time when they think about the brand.