Am I Wrong For Wanting A F*cking Break From My Family?
by Cassandra Stone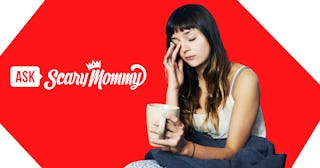 Tara Moore/Getty
Ask Scary Mommy is Scary Mommy's advice column, where our team of "experts" answers all the questions you have about life, love, body image, friends, parenting, and anything else that's confusing you.
This week: Moms are experiencing severe burnout after this past year, but somehow we still feel guilty for needing a damn break. Email advice@scarymommy.com
Dear Scary Mommy,
Like everyone else, this past year has pretty much wrecked me. While my physical health has remained intact, my mental health is on the brink of collapse. I work from home, I live at home, my kids are home, my husband is home, and I feel like if one more person asks me for something or asks where something is, I'm going to completely lose it. I mentioned to my husband that I need a break, but couldn't articulate what that would look like. He wasn't…unsupportive, but he also doesn't get it. And while he's a great dad and partner, he certainly doesn't do 50% of everything that needs to be done with the house and the kids. If I don't take some time for myself, I'm going to resent everyone around me. I don't know if I need a night away or a week, but I need something.
Yes, you do. You absolutely do. You're experiencing burnout, big time. And please know (I know you already do, but it bears repeating) that you are far from alone. This past year sliced our collective wounds wide open. If we had issues with our mental health and the burdens of parenthood and partnership before, the pandemic and everything that resulted from it just laid it all bare.
Your children and your husband can't get the best version of you if that version of you doesn't genuinely exist. And first and foremost, you deserve the best version of you.
Take a night away at a hotel—alone or with a friend. Tell your family you're not to be bothered unless there's an emergency, and then you do whatever it is you want to do for the full 24 hours you're gone. Maybe you'll just lay in the king-sized bed and eat snacks and catch up on your favorite reality television. Maybe you'll order room service. Maybe you'll stroll around town or go shopping. Just do it. For you.
Next, write down what you are no longer willing to accept when it comes to inequality in your relationship with your spouse. Talk about it with him. Maybe you'll decide you need counseling. Maybe he'll agree to step it up and do his job (it's not a favor, it's not "help," it's his job).
Ask yourself if therapy is an option for you—financially, mentally, and emotionally. If so, research therapists in your area and try to find one you think would be a good match. Psychologytoday.com makes this as simple as possible (because it can be overwhelming if you've never done it). I personally have been in therapy for the better part of 17 years, but this year led me to anti-depressants. My only regret is not having tried them sooner.
American moms don't have the proverbial village. We just don't. Culturally, we're more isolationists compared to our counterparts around the world. Economically, moms and families are among the bottom dwellers of the priority list when it comes to affordable childcare, healthcare, and community support. We're tasked with finding our own village, or at the very least we're tasked with finding our own ways to support ourselves. It's exhausting. It's unfair. But finding people and resources to support you will help you and your family, period.
This is a big to-do list, but instead of feeling overwhelmed, think of it as a gift to yourself that's been a long time coming and one that you deserve. Take yourself out for coffee. Go to a store that doesn't sell groceries. Take all the little breaks you can muster and plan out the bigger ones so you have something to look forward to.
You've got this. And if you want to scream, scream. You won't be screaming into a void, because we're all there with you.