Feeling Burnt Out? Read These Quotes When You Need A Mental Reset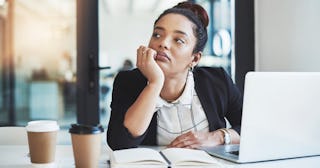 PeopleImages/Getty
You're plugging along, just trying to do your job and keep your head above water, and it happens — you start to feel an aching sense of… what is it, exactly? Dread? Anxiety and stress? Exhaustion? All of the above? What you're probably feeling, my overwhelmed friend, is burnout, and you're certainly not alone. A report from Indeed released in early 2021 revealed that 52 percent of employees polled revealed feelings of burnout. More than two-thirds of those employees (67 percent) felt burnout has worsened since the COVID-19 pandemic began (compassion fatigue, anyone?). There are myriad ways to address this particular type of stress in one's life, but sometimes even just reading burnout quotes can serve as an important reminder that life needs balance — you need to relax, and you shouldn't feel guilty about that.
If you're wondering how you can tell if you're burnt out, the Mayo Clinic recommends asking yourself the following questions:
Have you become cynical or critical at work?
Do you drag yourself to work and have trouble getting started?
Have you become irritable or impatient with co-workers, customers, or clients?
Do you lack the energy to be consistently productive?
Do you find it hard to concentrate?
Do you lack satisfaction from your achievements?
Do you feel disillusioned about your job?
Are you using food, drugs, or alcohol to feel better or to simply not feel?
Have your sleep habits changed?
Are you troubled by unexplained headaches, stomach or bowel problems, or other physical complaints?
You may very well be in the midst of burnout if you answered yes to any of these. Should that feeling start to overwhelm you, we recommend reaching out to a mental health professional. In the meantime, we hope the following burnout quotes will offer you a little comfort and maybe even motivation to take some "me time."
Thought-Provoking Burnout Quotes
"Self-care is how you take your power back." — Lalah Delia
"I have a theory that burnout is about resentment. And you beat it by knowing what it is you're giving up that makes you resentful." — Marissa Mayer
"No beating yourself up. That's not allowed. Be patient with yourself." — Holly Mosier
"The No. 1 cause of burnout is doing the same thing over and over again and not seeing results." — Steve Kaczmarski
"Take rest. A field that has rested gives a bountiful crop." — Ovid
"Being overwhelmed means that your life or work is overpowering you. Regain control by clarifying your intentions, setting realistic expectations, and focusing on your next step." — Daphne Michaels
"Stress is the trash of modern life. We all generate it, but if you don't dispose of it properly, it will pile up and overtake your life." — Danzae Pace
"You will burn and you will burn out; you will be healed and come back again." — Fyodor Dostoevsky
"Burnout is nature's way of telling you you've been going through the motions your soul has departed." — Sam Keen
"Sometimes the most important thing in a whole day is the rest we take between two deep breaths." — Etty Hillesum
"It's not the load that breaks you down, it's the way you carry it." — Lou Holtz
"Balance is not better time management, but better boundary management. Balance means making choices and enjoying those choices." — Betsy Jacobson
"We have outstretched our personal boundaries and forgotten that true happiness comes from living an authentic life fueled with a sense of purpose and balance." — Dr. Kathleen Hall
"Burnout is the result of too much energy output and not enough energy self-invested. In other words, it's burning too much fuel than you've put in your tank." — Melissa Steginus
"The more stress you accumulate, the heavier it becomes. If you accumulate too much, the weight of carrying it can break you." — Oscar Auliq-Ice
"Nothing is worth your health. Nothing is worth poisoning yourself into stress, anxiety, and fear." — Steve Maraboli
"The wise rest at least as hard as they work." — Mokokoma Mokhonoana
"A woman who lives with the stress of an overwhelmed schedule will often ache with the sadness of an underwhelmed soul." — Lysa Terkeurst
"Burnout occurs when your body and mind can no longer keep up with the tasks you demand of them. Don't try to force yourself to do the impossible. Delegate time for important tasks, but always be sure to leave time for relaxation and reflection." — Del Suggs
"Even the loveliest shoulders can bear but so much." — Jill Alexander Essbaum
"Stress is an ignorant state. It believes that everything is an emergency." — Natalie Goldberg
"If you get tired, learn to rest — not to quit." — Banksy
"Just because you take breaks doesn't mean you're broken." — Curtis Tyrone Jones
"When your conscientiousness impels you to take on more than you can handle, you begin to lose interest, even in tasks that normally engage you. You risk your physical health. 'Emotional labor,' which is the effort we make to control and change our own emotions, is associated with stress, burnout, and even physical symptoms like an increase in cardiovascular disease." — Susan Cain
"Choosing to laugh doesn't undermine the serious work we have to do. It enables us to do it." — Colleen Patrick-Goudreau
"If you don't have time for a break, you definitely need a break!" — Stretch + Bloom
"I actually think burnout is the wrong description of it. I think it's burn up. Physiologically, that is what you are doing because of the chronic stress being placed on your body." — Richard Boyatzis
"Don't burn out. Take care of yourself by getting eight hours of sleep, eat healthy, and exercise. If you don't take care of yourself, there's no way you can take care of your company in the long-term." — Jared Kim
"You are not required to set yourself on fire to keep other people warm." — Unknown
"Almost everything will work again if you unplug it for a few minutes… including you." — Anne Lamott
"Burnout is so hard to get out of because when you're in it, you ask yourself, 'What can I do to bring me relief from all this pressure and stress of all this work I need to do?' And the only answer you can think of is, 'The only thing that will bring me relief is if I finish this work.'" — Jonny Sun
"Burnout is a bone-tired, soul-tired, heart-tired kind of exhaustion." — J. Pennebaker
"You can do anything, but not everything." — David Allen
"Burnout is a byproduct of a dysfunctional work environment." — Joy Energy Time
"Your energy is currency. Spend it well." — Adrienne Bosh
"It takes 10 times as long to put yourself back together as it does to fall apart." — Suzanne Collins
"Friendly reminder that 'doing your best' does not mean working yourself to the point of a mental breakdown." — The Cultivated Career
"Gratitude for everything you still have, and every step of your recovery, is such an important part of healing from burnout." — Emma Matthews
"The real secret to getting more done is giving yourself a break." — Marie Forleo
"Burnout, like any difficult experience, is a great teacher. My question is: What is it trying to tell you?" — Dr. Rebecca Ray
"Feeling chronically exhausted and totally over it? It's important to know the signs of burnout." — Carley Schweet
"Your body cannot heal without play. Your mind cannot heal without laughter. Your soul cannot heal without joy." — Catherine Rippenger Fenwick
"In dealing with those who are undergoing great suffering, if you feel 'burnout' setting in, if you feel demoralized and exhausted, it is best, for the sake of everyone, to withdraw and restore yourself. The point is to have a long-term perspective." — Dalai Lama
"You don't have to take on other people's goals and feel like you have to meet them." — Laura Brassic
"The land of burnout is not a place I ever want to go back to." — Arianna Huffington
"Take time today to pause, to linger, to quiet the noise and remember that your worth is not measured by your productivity." — A Life in Progress
"These mountains that you are carrying, you were only supposed to climb." — Najwa Zebian
"Life moves pretty fast. If you don't stop and look around once in a while, you could miss it." — Ferris Bueller's Day Off
"Overworking is the black plague of the 21st century." — Richie Norton
"You're feeling burnt out and discouraged, but you've made it this far and I think that's really brave." — Unknown
"Happiness is not a checklist. A dream job, a fast car, a good home, even love, mean nothing at all if you have not yet found a way to feel full and content in your own mind and heart." — Beau Taplin
"Self-care is giving yourself permission to pause." — Cecilia Tran
"You're burned out because this culture has messed up our priorities, not because there's something wrong with you." — Juliana Finch
"Don't worry about what will happen to your career if you take a stress leave. Worry about what will happen to you if you don't." — My Life I Guess
"Be brave enough to ask for help when you need it. There is no merit badge for doing all the hard things alone." — Maggie Smith
"Cut yourself some slack. You're doing better than you think." — Unknown
"Nobody's perfect, so give yourself credit for everything you're doing right, and be kind to yourself when you struggle." — Lori Deschene
"Dear Stress, I would like a divorce. Please understand it is not you, it is me." — Thomas E. Rojo
"You can have it all, just not all at once." — Oprah Winfrey
"When we train, our performance improves as we adapt to stress. Over time, however, if the stresses are too great or we don't incorporate sufficient recovery time, gains begin to diminish. To grow and adapt, we require stress, but equally, we need periods of rest and recovery. This is a delicate balance to strike." — Chris Duffin
"You can't de-stress by stressing some more." — Tiisetso Maloma
This article was originally published on