A School Bus Driver Gave Christmas Gifts To Every Kid On His Route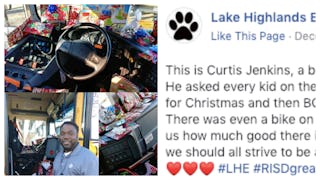 Image via Facebook/Lake Highlands School
A bus driver saved his money to buy a Christmas gift for every kid on his route
Are you ready to meet to a real-life Santa? Curtis Jenkins, a school bus driver in Dallas, Texas, asked every single kid on his route what they wanted for Christmas. Then, he saved up his money and bought each and every one of them a gift. This is the exact kind of holiday cheer we all need right about now.
Lake Highlands Elementary shared a picture on Facebook of Jenkins' bus, which was overflowing with wrapped goodies. "This is Curtis Jenkins, a bus driver for our school," the post reads. "He asked every kid on the bus what they wanted for Christmas and then BOUGHT IT FOR THEM! There was even a bike on that bus!!! This reminds us how much good there is in the world and how we should all strive to be a little more like Curtis."
Thanks to some additional financial contributions from community members, Jenkins was able to buy a whopping 70 gifts for all the students on his route. One of the kids asked if Jenkins was Santa Claus, according to ABC News, and – let's be real – he 100% is.
Jenkins tells The Huffington Post that he bought even bigger presents for kids who made smaller requests, throwing in a coloring book, crayons, or a jump rope – just because. "It was so amazing," Jenkins said about the whole gift-giving experience. "Just to let them know the spirit of giving and loving is still here."
When ABC News posted this special story on Facebook, the comment section was overflowing with love for Jenkins. Many people shared the ways that their childhood school bus drivers used to go the extra mile to make kids feel happy and special.
Jenkins told Good Morning America that "kids these days need to see positivity." He believes that if he shows them love and kindness, they'll pass that same positivity on to others.
Plus, Jennifer Wilcox, the school's PTA president, added, Jenkins just wanted to see everybody happy. "I believe his motivation was to bless the kids and to put smiles on their faces," she said.
Sending so, so much holiday cheer and love to Jenkins. Santa has some serious competition.