Busy Philipps Took A Body-Shaming Troll To School In Perfect Instagram Clapback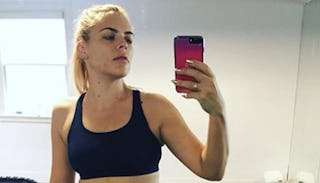 Image via Busy Philipps/Instagram
Don't body shame Busy Philipps unless you brush up on your grammar first
This week the internet learned not to go after Busy Philipps — especially if you don't know proper grammar. The actress, writer, and mom had words for an Instagram troll that was desperately trying to body shame her.
It all started when Philipps shared a post-workout mirror selfie after her beloved daily LEKfit session. She's pictured standing on a trampoline in a workout studio, and the caption reads in part, "My workout every morning makes me feel awesome (even on the days when I'd rather stay in bed, like today)".
The post, like all of Philipps' social media updates, got thousands of likes and lots of encouraging comments. But one troll tried to spoil the body positivity party. He wrote, "Ughhhh you're rolls are showing".
Philipps was quick to shoot back.
"I feel like a man of your age should know the difference between YOUR and YOU'RE. YOUR is POSSESSIVE, as in 'YOUR rolls are showing.' (Get it? The rolls BELONG to me.) YOU'RE is an abbreviation for YOU ARE, as in YOU'RE CLEARLY AN ASSHOLE BODYSHAMING LOSER," she wrote, topping off the comment with a peace emoji.
Philipps received lots of support from her 1.1 million followers, who flooded the comments section with body-positive support (and a few more grammar jokes).
And as if the jerkiness of the troll couldn't get any more gross, it's important to mention that Philipps' original post was part of #TheAwesomeChallenge charity campaign, in which kids' clothing subscription box Rockets of Awesome is donating back-to-school clothing to kids in need.
This is far from the first time that Philipps has been outspoken about body shaming and body positivity. Last fall, for example, she called out a well-meaning fan who commented on her body while the star was in a Rite Aide after a Soulcycle session.
"You know how when you're a woman, sometimes people feel like they should be able to comment about your body all the time or make laws about your body?" she said in an Instagram story. "Well when you're an actress, or any female in the public eye, everyone feels that they can comment on your body all the fucking time. Always."
"The amount of people in my long 20-year career in this industry who've come up to me in grocery stores and Bed Bath and Beyonds to talk with people about my weight," she continued. "I think it's a good thing to err on the side of 'Let's not talk to people about their bodies unless they bring it up first and they want to talk about their bodies.' "
Oddly enough, she credits her Instagram community for helping her raise body positive girls:
"For me, I really try to focus on what I find to be the positive side of social media," she told Today. "And, what drew me to Instagram in the first place is that I think you can really build a sense of community. It is reassuring to get messages from moms and dads and people all over the world saying, 'Oh my gosh, the same thing happened to me,'" she continued. "It makes the world feel a little bit smaller and like you're not alone in this."