Busy Philipps Watching Her Daughter's Recital On FaceTime Is So Relatable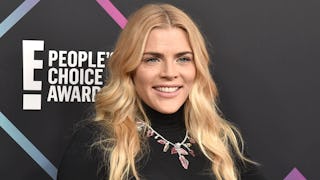 Image via Getty/David Crotty/Patrick McMullan
Busy Philipps shares how 'unbelievably heartbreaking' being a working parent can be sometimes
Busy Philipps is, well, busy. She's got her own new talk show on E! to film and promote, and that means she's living that working parent life. Her most recent Instagram post is a perfect addition to the "Stars, They're Just Like Us" category, though, because even though her life is 500 times more glamorous than the average working parent, she proves we can all relate to one another.
Being a working parent means missing out on things with your children more than you want to. Small, everyday things as well as bigger, more milestone-y things. Like dance recitals, for instance. Which is what Philipps missed out on because of work — except she didn't miss out entirely.
Like many moms and dads with jobs, she made it work.
"Being a working parent sometimes is unbelievably heartbreaking and hard but thank God for FaceTime (even if it's blurry)," Philipps captions her most recent photo.
In the background, a bunch of little girls dancing in tights can be seen on a stage while Busy looks on adoringly. Philipps shares two daughters with her husband, screenwriter Marc Silverstein: Birdie, 10, and five-year-old Cricket.
Whether it's classroom parties, after-school activities, sporting events, or dance recitals — working parents can't be there for everything, all of the time. And while we can surely console ourselves with the knowledge we're providing for our family and setting a good example, we also know how heartbreaking it can be for our kids and ourselves when we have to miss an event.
In the long run, will it be detrimental to their psyche? Probably not. It still doesn't stop it from sucking, though.
While being a working mother has its own unique set of challenges (because let's face it, all momming comes with challenges whether you work for a paycheck or not — you're working), it has its benefits too.
A recent study shows kids of working mothers find notable success later in life: "Adult daughters, but not sons, of employed mothers are more likely to be employed and, if employed, are more likely to hold supervisory responsibility, work more hours and earn higher incomes than their peers whose mothers were not employed."
So maybe we can let that ease our guilt a bit and help us realize sometimes, being there via FaceTime is good enough.
This article was originally published on