Busy Philipps Losing Her Daughter's Favorite Stuffed Animals Is All Of Us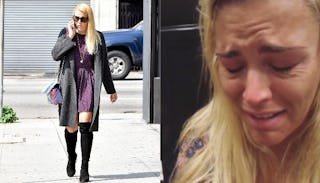 Image via BG015/Bauer-Griffin/Contributor/Getty Images/Instagram/Busy Philipps
Busy Philipps captures how heartbreaking it is to lose something so important to your kids
Actress and mom of two, Busy Philipps, shared an emotional video when she got back from vacation and realized she'd left her daughter's most prized possessions — her teddy bears — at their hotel.
Anyone who's a parent knows that horrid, stomach-knotting-I-want-to-vomit feeling that happens when you realize you've lost your kid's favorite toy. It happens to the best of us, especially when they have multiple favorites, all of which parents need to keep track of simultaneously. When the Dawson's Creek alum shared that she'd left her daughter, Birdy's prized teddy bears, Radar and Flat Bear, in Hawaii accidentally, it was all you could do to not cry right along with her.
In a series of Instagram stories, Philipps talked about her "parenting fail" when she arrived home from an amazing family vacation in Hawaii when she realized she'd left the bears in the hotel. "I called and housekeeping haven't found them, so I think they were really tangled up in the sheets and just went to the place where they wash the sheets and so hopefully tomorrow they'll find them," she explained, saying she felt like a total "a—hole."
Philipps and husband, Marc Silverstein, have two little girls, Birdy, nine, Cricket, four. "It doesn't make it better that, of course, all of Cricket's animals made it back," she said through tears, obviously overcome with emotion. "She was just so heartbroken, and I was, like, I knew it as soon as I opened up the suitcase, I didn't see Radar and Flat Bear. I was like, fuck, fuck, fuck.'"
I remember "losing" my son's favorite dog, "Doggy" one night. The one he can't fall asleep without and brings absolutely everywhere with him. Obviously, I overnighted the exact same dog (thank you, Amazon), which arrived the next day right about the time he found the original underneath the couch. Needless to say, we now have two Doggy's we bring everywhere we go.
And if the story wasn't sad enough, she revealed an even more heartbreaking detail. "Radar was my bear when I was a kid, and Birdie just wrote a whole thing in English class about how it was her most prized possession, because it had been mine," she explained.
"We're all healthy, made it back in one piece," she continued. "They're just stuffed animals. She'll recover. She's resilient. I don't know if I will. I know it's just a mistake and these things happen but fuck, it's the worst when you're a parent and it's your responsibility to keep everything straight."
Philipps also posted a picture of the bears in the hope someone will find the dynamic duo and send them back where they belong. "I scoured my photos and found a pic of FLAT BEAR AND RADAR. If you are in HAWAII on the Big Island, specifically at the FOUR SEASONS HUALALAI OR if you know someone who works at the United Laundry Facility in Kona keep your eyes open for two very important and missed bears!" she writes.
"So … back to reality," said Philipps. "I just feel like such a bad mom. And now I have to pick up the mess I made when I opened all of our suitcases and tore through them like a fucking lunatic."
This article was originally published on