Busy Philipps Reminds Working Moms We Can't Do It ALL - And That's Okay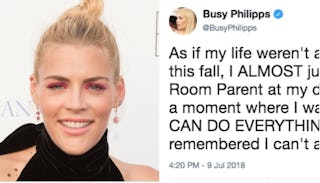 Image via Gabriel Olsen/Getty Images/Twitter
Busy Philipps considered being "room parent" at her daughter's school but came to her senses
Moms try to do it all, right? We work, we parent, we clean, we volunteer, we grocery shop, we go to the gym — the days fill up pretty quickly. Some of us just take on too much but sometimes, we realize before it's too late that we're about to hit mom overload.
That's exactly what went down for actress and mom Busy Philipps recently. She keeps us all updated on her life through Instagram and Twitter where we get to see the lows (lost lovey while traveling) and the highs (getting a cardboard cutout of her BFF). She also lets us know when she's just plain screwed up — or, almost screwed up as was the case with a recent Tweet about being the dreaded room parent.
"As if my life weren't about to get super crazy this fall, I ALMOST just signed up to be a Room Parent at my daughter's school," she writes. And seasoned parents everywhere freeze in terror at the mere mention of the phrase "room parent."
Philipps is basically insanely busy, launching a late night talk show (CANNOT WAIT), she has a book coming out, and some business deals going on but what's one more huge thing to do? Ugh, I feel this so deeply.
Sure, when my first kid was in kindergarten I was all shiny and eager, ready to jump in headfirst to help with All The Things despite a total lack of free time — but I have a sixth grader now. I know better.
Luckily, so does Philipps.
"I had a moment where I was like,'OF COURSE I CAN DO EVERYTHING!!!' Then I remembered I can't and THATS OK," she says.
It's so so OK it's not even funny. I've been a working mom as long as my kids have been in school and while I commit to helping for one or two classrooms parties per year, I just can't do much more than that. My very dear friend who stays at home with her kids has been both PTA president and room mom for our kids' classes — and bless her for it. She has the patience of a freaking saint and happily explains that although she's busy with her life and home, she still has the time to help — and I definitely don't. So I give her my full support and on the parties where I just can't make it to help, I buy supplies and send them in.
We all play a role and it's so OK to admit your limits and not overextend or stress yourself out. As tempting as that can be for us moms.
This article was originally published on