Union Grocery Delivery Drivers Are Being Fired & Replaced With DoorDash Employees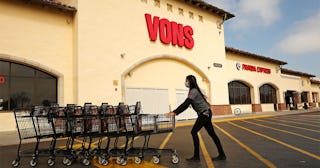 Al Seib/Getty
Vons and Albertsons stores are laying off full-time union delivery drivers to replace them with gig workers thanks to Prop 22
Vons and Albertsons, two of the country's largest grocery store chains based in California, are laying off their full-time, union delivery drivers in favor of utilizing app-based delivery services instead of their own employees. The stores will be shifting to third-party delivery services like DoorDash, InstaCart, and Uber beginning at the end of this month.
These drivers, who have been classified as essential workers for the last 10 months, will be the latest workers to lose their jobs during the COVID-19 pandemic. Comedian Adam Conover tweeted the news.
A Vons manager confirmed to Knock LA that as of February, their drivers would be laid off. Another grocery chain, Pavilions, has already made the switch to DoorDash.
"Albertsons Companies made the strategic decision to discontinue using our own home delivery fleet of trucks in select locations, including Southern California, beginning February 27, 2021," a spokesperson for Albertsons, Andrew Whelan, confirmed to Knock LA in a statement. "We will transition that portion of our eCommerce operations to third-party logistics providers who specialize in that service."
The switch to "independent contractors" for grocery delivery is all part of California's Proposition 22, which essentially gutted worker protections in order to make it easier (read: cheaper) for companies to utilize delivery app companies like Shipt and InstaCart instead. Officially known as the App-Based Drivers as Contractors and Labor Policies Initiative, Prop 22 measure that would classify drivers as independent contractors under California state law.
Prop 22 classifies delivery drivers as independent contractors instead of real employees, in order to avoid offering a guaranteed hourly pay, labor protections, and benefits. The "gig economy," which refers to the influx of freelance workers, or independent contractors in recent years, allows companies to demand more out of people working for them for less money, no benefits, and shady tipping tactics.
Laying off longtime union employees who were making a full-time salary is a particularly egregious move amid a year-long pandemic that has forced grocery store employees to continue working and feeding people despite the danger of exposure to the virus. Delivery drivers make it possible for those without transportation or ability to shop in-store to get the essential items that they need. Replacing full-time employees with independent contractors who will be lower-paid with no benefits during a global pandemic is American capitalism in a nutshell.
It's crucial for constituents of every state to be aware of legislation like Prop 22 on the ballot moving forward.
This article was originally published on