California Parents Keep Kids Out Of School To Protest Vaccine Mandates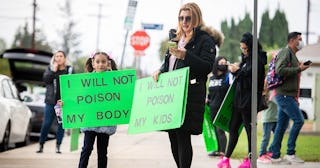 MediaNews Group/Los Angeles Daily News/Getty
Parents across California are pulling their kids out of school to protest the state's first-in-the-nation vaccine mandate for public schools
On the COVID-19 front, there's a lot of good news recently. The brutal summer surge that overwhelmed hospitals in many states is finally receding. 77 percent of eligible Americans have received at least one vaccine dose. FDA approval of vaccines for kids under 12 is expected to come in the next few weeks. Yet despite all that, there are still setbacks — namely, the pockets of Americans who continue to deny the safety and efficacy of vaccines and refuse to take them, allowing COVID to continue to spread in our communities. In California, those Americans are now causing even more disruption to schools and kids' learning.
Parents across California have begun pulling their kids out of classes in a series of "sit outs" and "walk outs" to protest the state's first-in-the-nation vaccine mandate for public schools. California has mandated that all kids who go to school in person must receive a COVID vaccine once one is approved by the FDA for their age group. For kids ages 5-12, that's expected by early November.
Kids just finished a year-and-a-half of intense disruption to their education, with the fast and messy pivot to online learning at the start of the pandemic, followed by outbreaks and quarantines once schools started to reopen. But that hasn't stopped these California parents from creating yet another stumbling block to kids' education by using their children as pawns to protest life-saving vaccines.
It's not like California parents have been sending their kids to school without vaccination at, um, any point in modern history. The new mandate simply adds COVID-19 to the list of 10 other vaccines kids are required to have to attend public schools, including those for measles and mumps. And kids who don't get vaccinated have the opportunity to pursue "independent learning," a course of study that allows them to keep going to school online, without putting their peers at risk of disease.
"Protesting something that is ultimately going to to make not just our entire community, but especially our kids, safer seems illogical," parent Tisha Banker tells KTLA.
"We want to end this pandemic. We are all exhausted by it," Governor Gavin Newsom said when he announced the mandate on Oct. 1. We couldn't agree more.
California's vaccine mandate in schools will go into effect in phases, starting with the oldest kids. The first requirements, for kids in grades 7-12, aren't likely to begin until July 2022. While the statewide mandate is rolling out slowly, a number of large school districts, including Los Angeles, San Diego, Oakland, and Culver City, have announced their own vaccine requirements for kids attending school in person.