After Finding Wedding Ring In Ashes Of Lost Home, Man Proposes Again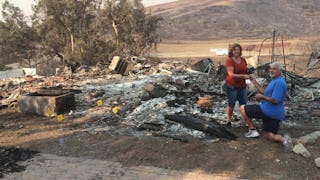 Image via Julie Myers
Not all was lost among the wildfires for this California couple
Several wildfires erupted in Southern California this week, causing unimaginable destruction. In Ventura County, a wildfire called the Thomas fire has burned through 90,000 acres of land and at least 150 structures so far. Videos captured show the seemingly endless flames forcing many people to evacuate their homes to escape the danger.
Julie and Don Myers were among those who evacuated, but were allowed to return to their neighborhood once it was deemed safe.
They weren't expecting to find much among the ash and rubble that was once their home. But they were able to find something incredibly valuable nonetheless.
As they sifted through the ashes, Don found his wife's original wedding ring. Can you imagine? What are the odds? Especially when you consider their neighborhood looked like this just a short time before they were able to return:
"We had a fire safe and hoped some of the items in there survived," Julie tells Scary Mommy. "But the fire crew helped us open it and all that was in there was wet charred remnants."
Julie says the ring in the safe was her original wedding ring. She wears a second ring her husband bought her for their 25th anniversary, which is why the original ring was put away for safekeeping.
"The firemen helped us sift through them insisting there could be something in there and they found a couple other jewelry items," Julie says. "So my husband continued the search and found my ring."
The best part of the story? Don got down on one knee and proposed all over again. I'm not crying, YOU'RE crying!
Here are two people who lost everything to a devastating wildfire — everything. The charred ashes that were once their home make for a heartbreaking sight. But this couple felt like not all was lost once they found this ring.
As the wildfires continue to sweep over Southern California and more people lose their homes, there is a way to help. PBS has compiled a regularly updated list of ways people can donate and volunteer to help victims and first responders.