The Calm App's New Family Plan Is Exactly What We Need Right Now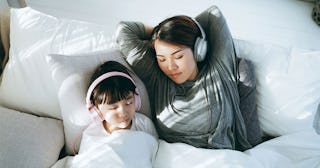 AsiaVision/Getty
The sleep and relaxation app has released a new affordable family plan and we might need it to survive the next year
Calm has announced a new family plan that allows up to six different accounts to access unlimited sleep, meditation, and relaxation content for $99.99 per year. And that sounds pretty great to us.
The plan is not limited to one household or to one type of traditional family structure. Any six people can access the group account from separate devices, including parents and kids, grandparents, aunts and uncles, cousins, or just friends.
"Family plan was the #1 most requested feature from our community," Chief Product Officer, Mads Johnsen, tells Scary Mommy. "We launched Calm Premium Family to meet the demands of our consumers and make mindfulness accessible and affordable to more people on their mental wellness journey."
Can you think of five other people who need help calming the hell down in today's world? Yep, we can.
Launched in 2012, the Calm app specializes in providing meditative and relaxation content to everyone. It's award-winning and the leading meditation app around—and for good reason. It's content doesn't only include guided meditations from leading teachers, it also has relaxing original recordings and archival content from people like Bob Ross, LeBron James, Lucy Liu, Kate Winslet, and Idris Elba. They release new content every week.
"Over the last few years, the world has woken up to the importance of mental health, and the pandemic brought an even sharper focus to conditions like loneliness, anxiety, and stress" says Johnsen. "Calm meets people where they are on their mental health journey with a breadth of content to help them build a consistent mindfulness habit and develop a toolbox for mental resilience during challenging times."
The Calm Premium Family subscription includes soothing sleep stories, gratitude check-ins, guided meditations, ASMR content, music for relaxation, nature sounds, and classes. They also have lullabies and sleep stories especially targeted to kids. A cool example? Bill Dozer the Bulldozer will help put your kiddos to sleep at nap time.
"We are growing our library of Calm Kids resources to directly support families and kids, as the mental health of younger generations comes into acute focus," Calm wrote in a statement. "Our library consists of Sleep Stories and lullabies to help kids sleep better, and meditations to help them manage emotions and build mental resilience. Calm Kids content features characters that kids love and parents can trust like Thomas & Friends and Poppy from Trolls, who can be there to lull kids to sleep or guide them through a stressful time with meditation."
We're picturing being able to do a guided meditation while our kiddo listens to a sleep story—or being able to easily add our sister or best friend to our plan.
Practicing mindfulness and meditation is scientifically proven to reduce stress and anxiety, improve focus and happiness and have great impacts on your overall well being. According to a Calm Science study of Calm members who used the app around five times per week, 84% saw improvements in mental health, 81% reported less stress and 73% expressed higher sleep quality.
Those who already have Calm subscriptions can easily upgrade without losing their saved favorites or use history, although the cost of a previously purchased subscription cannot be applied towards the cost of a family plan. The plan is billed to one individual, but those who use the plan can split the cost among themselves as they like. Splitting the plan between six adults costs a bit less than $17 per year.
According to the website, each Calm Premium Family Member receives their own account and logs-in information, tied to a unique email address and password. Session history, stats, check ins, and other personal information are not shared between Calm Premium Family Members.
This article was originally published on