Cameron Diaz Shares A Makeup-Free Selfie To Remind You To Love Your Aging Face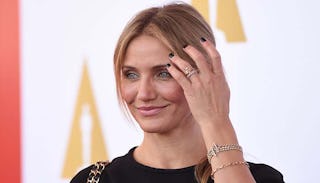 Actress Cameron Diaz arrives for a luncheon in celebration of the Hollywood Costume exhibition, at the Wilshire May Company Building, the future site of the Academy Museum Of Motion Pictures in Los Angeles on October 8, 2014. The exhibition, which explores the role of costume design in storytelling, features over 140 costumes and is open to the public through March 2nd. AFP PHOTO / Robyn Beck (Photo credit should read ROBYN BECK/AFP/Getty Images)
Cameron Diaz shares a makeup free selfie — and looks amazing
Cameron Diaz is talking about aging: specifically, why we're so afraid of it.
Diaz has become somewhat of a health guru in her "old age." Clearly, I'm joking. She's not old at all — she's 43. But in a society overrun with an obsession with hiding those wrinkles and trying to mask any signs of aging, her recent makeup-free selfie is a breath of fresh air. She poses alongside her new project, The Longevity Book.
"If you understand how your body works then you can take action to help keep it in the best possible condition so it can carry you through a long and beautiful life," she says in the caption.
There are the obvious reasons why we are afraid of aging: the inevitable deterioration of our bodies, old age itself, unanswerable questions about how long we'll live — happy Friday! But seriously, our society is currently obsessed with the notion that we can somehow stop time when it comes to showing our age — can we all agree on that? It's weird and it's a hard thing to talk about.
It's hard to talk about because you don't want to shame those who go another route: who decide to hide their wrinkles with botox, put a photoshop filter on every selfie they post, fill their lips, lift their boobs, widen their eyes — do anything they can to appear younger. But, frankly, it's getting to be a little much. There are plenty of women in their 20's starting all of these interventions already. Is it okay to point out that we are going totally overboard with this shit? You will age. If you're lucky.
Old age is a gift — not everyone makes it there. It's strange that we've become less likely to see those laugh lines and general signs of aging as reminders of a life well lived. Diaz says, "Let's start celebrating and living an engaged life, and stop punishing ourselves for not looking a certain way, and instead holding ourselves accountable for actually taking care of ourselves inside first, knowing the results on the exterior will be a shining side effect. Choose to be informed, choose to be healthy and happy."
I'm 43, just like Diaz. I may not be in my twenties anymore but I am a woman. A mature, smart, sexy, intimidating-ass woman who my 25-year-old self would have looked up to and loved. Wrinkles, bigger ass and all. I don't want to look 25, because I'm not! Diaz's message is great because it's about caring for yourself. An outward benefit of doing that is that you'll probably look better. But what would happen if we made feeling better the goal and looking better secondary? For one, a lot of multimillion dollar industries that bank on us hating ourselves would not be happy.
There's a quote I found on Twitter that has stuck with me, by a young writer named Caroline Caldwell: "In a society that profits from your self doubt, liking yourself is a rebellious act." So. Much. Truth.
"My biggest hope for you is that you get to grow old," Diaz says. "See ya there!"
This article was originally published on