Can Your Children Inherit Your Cultural DNA?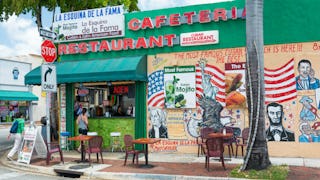 Kamira / Shutterstock
I am unsure how most Americans outside of the constraints of the Cuban community in Miami grew up as children in the 1970s and '80s. For one, I educated myself much later on the cultural icons of those times—Fleetwood Mac, Carly Simon and James Taylor—whereas for my husband, that was part of his upbringing. Instead, I remember recordings of famed Cuban comedian Álvarez Guedes and old-school salsa blaring from the radio.
Now, my sons enjoy a squeaky clean childhood set in a two-story colonial home politely spaced between neighbors in the suburbs of the Mid-Atlantic region. This is in contrast to my old neighborhood of tightly lined homes set along to low roof horizons, a consequence of both urban sprawl from poor city planning and for a better vantage point against the probability of hurricanes making landfall.
As my children enjoy their after-school activities of soccer and swim lessons along the backdrop of deer-infested suburbia, I often contemplate how much will they understand their cultural roots? How much will my own sons understand where I come from, and will they continue these traditions into their adulthood? What will my own children comprehend of their cultural DNA?
I will blatantly start with my first failure: My sons do not understand a lick of Spanish. An easy excuse is that they were not raised by two Spanish-speaking parents surrounded by a community who only spoke that language in places like the U.S. Post Office and at the local pharmacy. My upbringing was completely bilingual out of necessity to communicate. My poor, English-only speaking husband would have me speak on his behalf back in our courting days in Miami upon visiting an authentic restaurant of some Latin American origin—though he lacks in formal language, he has developed an impressive repertoire of Latin culinary terms.
Most ancestors from those first generations probably grew up with traces of their Old World culture even in their adopted homelands, where business niches were built to cater to those yearning for a taste of home. I envision my husband's Jewish forefathers dressed like the cast from Fiddler on the Roof with a few belongings clinging to them as they made the laborious trek from remote parts of Eastern Europe to the bustling harbors of England. They set sail for the New World as third-class passengers to Ellis Island, where they set their eyes on the Statue of Liberty for that first time, awestruck. With $10 in their pockets and little English to go by, they were herded off to deplorable conditions of tenements on New York City's Lower East Side. All of this after their surnames were butchered down to fewer consonants to make them sound more Anglo.
Despite how much of this sacrifice is apparent to me, my husband is completely removed from the arduous, late-19th century journeys of his ancestors. It never crosses his mind. Then again, he also speaks zero Yiddish. This aloofness baffles me, as my own family's story of coming to America is far less removed. Like many of my peers growing up in Miami, we were the first of our ancestors to be engaged in American society and participate in its educational system. The majority of Cubans who left during those times transplanted their cultural traditions and carved out a little part of the Florida peninsula for themselves, and they created a network of community within an area that was far less densely populated and diverse than those migrants who crossed the Atlantic to New York City during the 1800s and early-20th century.
Certainly, those immigrants from long ago who traveled across oceans to get to the New World bore witness day in and day out to remnants of their cultural heritage. I grew up inhaling mine in the predominantly Hispanic area of what we call the "sawesera" of Miami, the affable term used by locals to represent the southwest quadrant of the city. There was no tidy bundt of a Christmas ham presented at the dinner table on the 25th of December with the likes of Bing Cosby crooning his trademark song over our heads as the family feasted and sipped eggnog. Instead, my holiday celebration started the previous evening with loud Latin music screaming over voices and coquito being passed around for everyone's enjoyment at any age. The pig in its entirety laid across the Caja China in all its vulgar brilliance, from its coarse-haired snout to its crispy tail. The fragrance of garlic and sour oranges from the mojo sauce hung inside the kitchen awaiting the pig's highly anticipated arrival after half a day or so of roasting outside.
Even though we were expected to attend an institute of higher education after graduating from high school, it was within the framework of a commute, which left the majority of us attending a handful of the same colleges in the vicinity. Many times those colleges became an extension of high school, as we remained within our parents' homes devoid of the freshman communal experience of living in dorms and sharing bathrooms. It was a notion far-fetched for most parents of my generation to have their children live far away from their prying eyes, where their dinner was cooked and their laundry was done regardless if they were legally an adult.
Though I may be partially romanticizing my upbringing since as I last lived with my parents over 14 years ago, and still hear the same complaints about traffic and the contentious public school system, I realize that growing up in this mélange of shifting cultures and languages was unique to my generation.
As we became indoctrinated into this American landscape, my generation was caught between the crossfires of traditions transplanted by our parents, which often created discord with our brazen new world—partly due to generational differences, but mostly because of our fluidity in becoming culturally assimilated—just as my husband's ascendants probably once had. I know my generation sometimes felt alone as we navigated through this uncharted territory, other times with solace from our peers, and in other instances, alongside our families.
As for my children, they will develop a kinship to their cultural DNA through their own set of experiences with a Cuban-American mother and Jewish-American father who did the best they could to ensure their future would prosper and that they make the most of their opportunities.
This article was originally published on