Canada Plans To Welcome 1 Million Immigrants Over The Next Three Years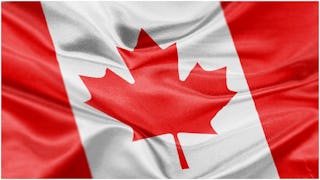 Image via Mariano Sayno/ husayno.com/Getty
Unlike the U.S., Canada wants to welcome immigrants into their country
Right now, Trump and most of his Republican colleagues want to build a wall to keep immigrants out of the country. Meanwhile, over in lovely Canada, they want to add immigrants to their country. One million, to be exact.
A new report to Parliament recommended that Canada welcome one million immigrants over the next three years. That's about 350,000 people per year.
"Thanks in great part to the newcomers we have welcomed throughout our history, Canada has developed into the strong and vibrant country we all enjoy," Ahmed Hussen, the minister of immigration, refugees, and citizenship, wrote. "Immigrants and their descendants have made immeasurable contributions to Canada, and our future success depends on continuing to ensure they are welcomed and well-integrated."
Yup, great point. Perhaps say it a little louder for the people over in the White House?
Hussen applauded his country for their welcoming stance on immigration. According to his report, about 1 in 5 Canadians are immigrants.
"Canada is a world leader in managed migration with an immigration program based on non-discriminatory principles, where foreign nationals are assessed without regard to race, nationality, ethnic origin, colour, religion or gender," he wrote.
The minister, who fled Somalia for Canada when he was 16, noted in an interview with The New York Times that entering the country is just the beginning for refugees. Then comes the difficult acclimating process.
"When you go through that refugee experience, it is not a free ride," Hussen said. "You have this really long journey of settlement and integration that is very hard. You have to sort out the big stuff as well as the everyday things."
But, he noted, the "everyday generosity of Canadians…helped me each and every step of the way."
There's a staggering amount of displaced people fleeing dangerous situations (in 2017 the number reached 68.5 million), and Canada is doing its part to help out. According to CNN, the Immigration, Refugees and Citizenship Canada have pledged $5.6 million to finance global resettlement initiatives.
It definitely helps that Justin Trudeau, the country's Prime Minister, has taken such a generous approach to immigration. In fact, he sees all the incredibly positive impacts that immigrants can have on a country.
"We're a country that's open to immigration right now," he said during the Fortune Most Powerful Women International Summit in November. "Being able to get the top talent and draw on big pools of well-educated, ambitious, forward-thinking and diverse [people] is a hell of a competitive advantage that I don't see the U.S. matching anytime soon."
*Sigh.* Can we ditch all the fear-mongering and bring some of this level-headed thinking over to our government now? ASAP, please.