New Canadian Law Against Illegally Passing School Buses Needs To Be A Thing Everywhere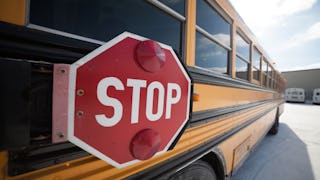 Image via Getty/Ivy Berg Photography
Drivers in one Canadian province will lose their license for illegally passing a school bus
Here's another thing in the long list of governing decisions Canada does better than the United States: if you illegally pass a school bus in this province, you could lose your license and face a hefty fine. After so many needless fatalities due to this very thing, these are legal consequences we can all get behind.
In the Canadian province of Prince Edward Island, the law now states that drivers who don't stop for a school bus will lose their license for three months and could face a fine of up to $5,000. The new law officially takes effect this weekend.
According to CBC news, the law was passed in direct response to the increasing number of incidents of children getting hit or killed while getting on and off their school buses.
In the United States, multiple tragedies in communities all over the country have occurred since the beginning of the school year. Three siblings were struck and killed in Indiana last month while boarding their school bus after a driver in a pick-up truck failed to obey traffic laws and stop behind the bus. A nine-year-old girl and her six-year-old twin brothers lost their lives because of one reckless driver.
That very same week, a seven-year-old boy in Pennsylvania was waiting at his school bus stop when he was struck and killed by a hit-and-run driver. Also that week, a nine-year-old boy in Mississippi was killed as he crossed a highway to catch his school bus.
Indiana legislators hope to enact a law that mandates all school buses should be equipped with cameras on the outside (many already have them on the inside), and while it's certainly a step in the right direction, it's not enough.
In Prince Edward Island, drivers who lose their license due to illegally passing buses would reportedly have to meet with highway safety officials, pay a $100 reinstatement fee, and take a defensive driving course within six months of getting their license reinstated.
The amount of people who fail to stop — even when the school bus deploys the stop-arm and flashes bright lights alerting drivers to stop — is staggering. A 2014 survey conducted by the National Association of State Directors of Pupil Transportation Services surveyed 97,000 school bus drivers across the country who reported more than 75,000 drivers illegally drove past school buses in the act of dropping off and picking up children in a single day.
Canadian Transportation Minister Paula Biggar says drivers who fail to stop for school buses won't be allowed to drive on Island roads:"We all have a role in ensuring our Island roads are safe and keeping children safe on their way to school and we will continue to work diligently to prevent the dangerous passing of school buses on P.E.I."
This article was originally published on