Airlines Let Fort McMurray Evacuees Travel With Pets, Adorable Photos Ensue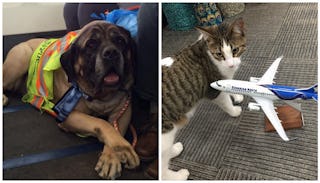 Westjet and Canadian North airlines make space for pets displaced by Fort McMurray wildfires
Horrific wildfires in Fort McMurray, Alberta, have burned an area larger than the entire city of Dallas, but amidst the destruction, two airlines have made an inspiring gesture to help those who've been forced to flee. Canadian North and Westjet are both allowing evacuees to fly with their pets beside them, free of additional fees.
The airlines began running evacuation flights this week, but because so many people have been forced to leave their homes quickly, most don't have boarding for their pets or an adequate way to carry them on the plane. Instead, the airlines are allowing cats, dogs, and even some bunnies, turtles, and tree frogs to fly right alongside their owners, and grateful passengers have been tweeting the world's most adorable photos of their animal seatmates.
One person tweeted that their flight had 130 human passengers, five cats, an astonishing nineteen dogs, and two turtles.
Canadian North even tweeted that a cat named Meow Meow was hanging out with flight attendants after her owner went into labor following their evacuation. They made the little cutie her very own employee badge and everything.
A Canadian North spokesperson tells the Huffington Post they wouldn't normally allow so many pets on their planes, but "due to the unusual circumstances we were able to bend the rules to accommodate these animals." Both airlines scheduled hundreds of extra evacuee flights to make sure everyone — whether they have two legs or four — made it to safety.
[related_post]
As sweet as their gesture is, it's impossible to forget the devastation many of these pets and their owners are trying to escape. Over 80,000 people have been forced to evacuate Fort McMurray since the wildfires started. Sadly, many were forced to leave everything behind, and BBC reports over 2,400 of the 25,000 buildings — including many homes — have been damaged or completely destroyed.
It will take months to rebuild and recover, but if the kindness of these airlines is any indication, many people and corporations will be more than willing to lend a helping hand. Pets are family too, and it's heartwarming to know so many animals and their owners were able to stay together during this difficult time.
If you're interested in helping evacuees, you can donate to the Canadian Red Cross here.
This article was originally published on