Cancel Your Vacation And Keep Your Butt At Home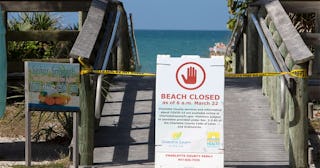 Englewood Beach in Charlotte County Florida,US was closed to the public by local authorities on March 22, 2020 to prevent the spread of Coronavirus. NurPhoto/Getty
As school closings rippled through the United States over the last two weeks and the words "social distancing" have become part of everyday vernacular, our lives have unraveled to become something new and strange. Sentiment has varied from annoyance to fear as we all try to understand what the coronavirus is and what the implications of its impact are. And now several states and cities have issued "shelter in place" or "stay at home" orders; people can still leave their homes, but state and local governments have told all non-essential businesses to close their physical locations. This is to keep as many folks as possible working from home and away from each other. If we are truly to flatten the curve, slow the spread of COVID-19, and relieve the strains on medical facilities, it is absolutely imperative that we socially distance ourselves.
This means you need to cancel your vacation plans and day trips too. Keep your ass at home, please and thank you.
Many of us are taking the warnings of the pandemic seriously. However, too many people don't seem to give a fuck about their fellow humans. They think the rules don't apply to them. The attitude seems to be that they are the only ones being inconvenienced by all of this "overreacting" so they carry on with life as normal because they are not part of the vulnerable group of folks considered most at risk. They either don't care if they get sick or assume that they won't. They don't care about being asymptomatic carriers and spreading highly-contagious germs.
Let me go on record here, and say: These folks are privileged and selfish assholes.
Days after California Gov. Gavin Newsom issued a shelter in place, California parks, bike paths, hiking trails and beaches were packed. Short of saying, 'What the fuck don't ya'll understand about staying home?' Los Angeles Mayor Eric Garcetti reminded people that what we are experiencing is serious.
And because people are acting like toddlers who want to do what they want and when, the City of Boca Raton Twitter's feed was used to publicly show people that crowded boat parties were not an example of social distancing.
Also in Florida, people seem to believe that if there is water in the oceans, they should be near it, slurring their words while forgetting to put on sunscreen like these college idiots who have been planning and waiting a whole "two, three months" to hit up Miami for spring break. Brianna Leeder says coronavirus is "really messing up my spring break. What is there to do here other than go to the bars or the beach and they are closing all of it."
You know what's really messing up my, and so many others' spring break, Brianna? Loss of income, financial insecurity, loss of health care, and increased risk of illness and mental health problems.
But apparently we are all just blowing this whole thing out of proportion. I mean, according to Johns Hopkins University and Medicine, there have only been 367,457 confirmed cases of COVID-19 and a mere 16,113 deaths. Five of those confirmed cases are students from the University of Tampa who decided getting drunk while lying on the beach was way more important than the risk of endangering the greater population, spreading the virus and killing people with their self-centeredness.
You might be thinking to yourself, "Where were their parents?" After all, now is the time to protect your family, and your own parents, by keeping your kids away from parks, beaches, and self-indulgent vacations.
Oh, right. There are plenty of adults who don't seem to give a fuck either.
I have seen statuses on my social media feeds from folks who refused to cancel their plans. There was no way they were going to miss their trip to Hawaii or "once in a lifetime" trip to the parks in Utah or Oregon coastline. Not only do these adults have the money to take fancy vacations, but apparently they have the arrogance to go on with them even when the CDC and WHO have provided very clear travel restrictions and recommendations. The United States has issued a "Do Not Travel" Global Health Advisory.
Hawaii's Tourism Authority website, Gov. David Ige said, "With the threat of COVID-19 we need to take care of our people and communities first. I am strongly encouraging our guests to postpone their vacations for at least the next 30 days and reschedule it for a later date. This will help us to deal with the virus first, protect the integrity of our destination and enable us to welcome our visitors back to Hawaii soon."
According to Hawaii's Department of Health they have 56 confirmed cases. All of those places you can't wait to get to won't be functional for a long time if you don't get over yourselves and reschedule your plans.
Guess what, dummies? The coronavirus doesn't care about your plans; ignoring basic instructions to limit the spread of a deadly novel virus is exactly what will keep us all under quarantine for months. Your inability to "sacrifice" your precious vacation is keeping businesses closed, kids out of school, and people out of work. Your need to "get away" is creating a need for someone to go to the hospital where they will be greeted by a nurse or doctor who doesn't have the protective gear they need.
I get it. I am about to reschedule plane tickets that were to be used to visit my long-distance partner. We are 1,400 miles away and I don't know when I will get to see her again. It fucking sucks. But it would be incredibly irresponsible to go just because I want to. My desire to see her is not more important than the health of anyone. I would give anything for a hug from her, but who am I to jeopardize the lives of others? I won't do it.
I am sick of the people who walk around with blinders on or who carry an attitude of "Not Applicable." This is not regularly scheduled life. You can't carry on with regularly scheduled plans. Get over yourself, listen to the damn CDC, and keep your ass home.
This article was originally published on