Pogo Stick Transportation Start-Up Coming To A City Near You
by Julie Scagell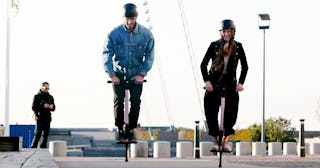 Cangoroo/Youtube
You will be able to hop-hop-hop your way all around town
If you visit or live in a major city, odds are you've hopped on a bike or scooter to get about town if you're running late or fancy an adventure that could end in skinned knees. But one start-up mobility company is taking things to The Next Level by announcing plans to deploy hundreds of pogo sticks in select cities as a new way to make an ass out of yourself publicly.
RELATED: The Best Electric Riding Scooters For Everyone (Yes, Even You)
Mobility company, Cangoroo, has upped the transportation game, stating they will initially begin launching the pogo stick method of getting to and fro in Swedish cities of Malmo and Stockholm — but the trend is already planned to make it stateside by the end of summer. The goal is to give more options than the uber-popular scooters in cities nationwide, but at what cost seeing as most normal adults will likely break a hip?
Lime and Bird are two rentable scooter companies that have taken the market by storm with a multitude of stations in almost every major city. A person can rent them on their app for as little as $1 (plus change per mile) so it's a pretty cost-effective way to get around town unless you're in high heels or have no health insurance.
I've personally tried a rentable scooter during a recent trip with my husband to Nashville. It was as exhilarating as it was terrifying, but they should come with a warning to make sure you're wearing a quadruple-padded sports bra and chin support because there was so much bouncing and shaking, I felt entirely sorry for all the strangers I passed who'll likely never get that vision out of their heads.
"We're bringing shared pogo sticks to every street corner of the world. Literally, jump on a Cangoroo anytime and cruise your way through the city," they say on their website. "Fun. Healthy. Convenient. 100% emission free."
I have the coordination of a drunken toddler so I'm gonna take a hard pass if pogo sticks hit a city near me but if you're more on the adventurous side and do have good balance, these could be a great option to hop from A to B real quick-like and also get a pretty decent workout. But of course, you'll look like a total jackass, as long as you're cool with that.
"We've been following the micro-mobility market and seen the demand. However, we also found that existing players are very generic when it comes to brand loyalty and making a statement," Cangoroo CEO and co-founder Adam Mikkelsen said when talking about the sustainability and fitness possibilities of the pogo stick. I think a shitload of pogo sticks in confined city streets bobbing and weaving through pedestrians in the very definition of a "statement" piece. Well done, sir.
Predictably, reactions to this idea have been pretty much to GTFO with this nonsense.
https://twitter.com/jetpack/status/1134726446126026752
https://twitter.com/jetpack/status/1134891034993876992
The company urges you to obey all traffic laws, show respect, and use protection (i.e. a helmet)," as well as stay off highways, use whilst sober, and don't pick up any passengers on your way, which seems obvious but you just never know.
Mikkelsen said his choice of launching his American presence in San Francisco was because of its reputation for innovation, stating they plan to begin deploying somewhere between 100-200 pogo sticks as early as late summer this year.
This article was originally published on