How This Mom Is Balancing Motherhood And A Career In Cannabis
by Elaine Roth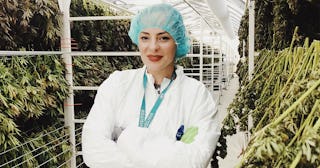 Courtesy Sackville & Co.
Since my first child was born, conversations around motherhood have evolved. We're more honest, with ourselves and each other about the realities of postpartum life, about fertility issues, about how burnt out we feel (especially during the pandemic). All of those conversations are important, but as far as we've come, there's still so much about the experience of motherhood that is taboo to discuss. One of those taboo topics — cannabis.
There's still a stigma surrounding cannabis. Even though it's 2021. Even though we know the cannabis of today isn't the same cannabis depicted in movies like Half Baked or Dazed and Confused.
Hayley Dineen, half of the Brooklyn-based duo behind Sackville & Co., a style-focused contemporary cannabis lifestyle brand, is seeking to change that. Along with co-founder Lana Van Brunt, she's actively working to break the stigma surrounding mothers using cannabis and/or working in the cannabis industry.
"Sackville was a brainchild of myself and my business partner, Lana, in 2018," Dineen told Scary Mommy in a phone interview. "We both had dabbled in cannabis consumption since teens, but obviously that experience changes as you get older and have adult consumption habits. We were so annoyed that industry didn't have anything that represented our style."
Breaking The Stigma With Design
The first step to breaking down the stigma was to bring cannabis consumption out of basements and corners and into the light, into the home. Dineen recognized that the products associated with cannabis consumption hadn't evolved along with the cannabis they were consuming. There's no shame in consuming cannabis and the products should depict that.
The two women used their design and branding backgrounds to create essentials and accessories for cannabis consumption. They wanted something that folks could display on their bar cart or mantle — a beautiful object with a functional use that they didn't have to hide away. The same way someone might display a beautiful martini shaker set.
We want people to "feel good about having it in their house. It's not a shameful object," says Dineen.
They sell a variety of gilded grinders, Crystal Ball Pipes, and CBD chocolates, which are sold at trendy retailers and have been written up in InStyle, Rolling Stone, and more.
Cannabis Consumption In Motherhood
Cannabis consumption isn't just about "getting high" anymore. The reasons for consuming cannabis are numerous and varied, including everything from wanting a nightcap, needing help with sleep, or getting back to intimacy, Dineen says. These reasons are often amplified in motherhood. (The pandemic played a role in amplifying the reasons even more.)
When mothers turn to cannabis for any of these issues, they often face judgment. That judgment can be worse depending on where you live. In some places, cannabis consumption is more accepted than others. For those mothers (and really all), the Internet has helped.
"As we all know, as a mother, society judges you no matter what," notes Dineen, but the Internet is a space which allows mothers to have these conversations online, where they can remain anonymous and avoid much of the judgment.
A Cannabis Company With Purpose
Sackville is not only trying to break the stigma surrounding mothers using cannabis but it's also supporting charities that support women, especially Women of Color. It's no secret that WoC have been disproportionately affected by the criminalization of cannabis. They donate 5% of their monthly sales to the Tender Foundation in Atlanta, which helps mothers.
Finding The Balance Between Motherhood And A Career In Cannabis
When Dineen first entered cannabis consumption in a professional way, she was reluctant to bring up her industry for fear of judgment. Since then, it's gotten easier to talk about cannabis. Now the challenges she faces are similar to that of any new mom trying to grow her own brand.
One of the things she's found the most helpful is creating—and maintaining—boundaries between family and work life. As the primary caregiver to her ten-month old son, she's had to learn how to find a way to work in a way that fits her family.
As inspiration, she looks to others who are doing what she's doing. "There are so many moms out there who are running a business and doing incredible things," Dineen says. She looks to podcasts, Instagram feeds, and a variety of social media for inspiration.
"Sometimes we think people can't do both or we're told it'll be hellish if we try, but lots of amazing women are doing amazing things and filling your mental space with that inspiration allows you to see much more clearly what you can do."
Slowly but surely the conversations in, around, and about motherhood are evolving, but there's room for more conversations. Conversations about cannabis and normalizing consumption.
"We're entering a new and interesting phase where people can curate their experience…getting sleep, calming anxiety, helping with intimacy," Dineen says. Companies like Dineen's are paving the way to help folks realize that the cannabis of today is not the cannabis of their younger, college days. As they do, they're helping break down the stigmas that make cannabis consumption in motherhood feel shameful — when we know it's not.
This article was originally published on