Why Is It So Damn Hard To Find A Decent Pair Of Jeans That Fit?
by Christine Organ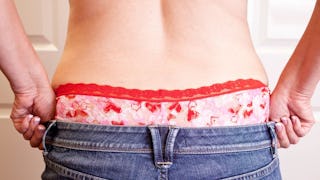 fstop123/Getty
I haven't owned a pair of jeans that fit – like, really fit – since the '90s. Literally. They were a bootcut pair of Mavi's that looked fabulous with either a sweatshirt or heels. The denim was soft, but substantial. They hugged my body in all the right ways, and I didn't have to worry about showing the world my new thong when I bent over to tie my shoe.
They were the best. Sigh…
Since then, it seems that every pair of jeans I've owned has been lacking in some way. Either the denim was too hard and rigid or too flimsy and thin. I either had to contort myself like a yogi to get them on, or they sagged in all the wrong places. And I either showed my ass crack every time I bent over, or I felt like my waist was being strangled with licorice when I sat down.
I've tried everything. Skinny and straight leg. Low rise and high-waist. Boyfriend jeans (which just look frumpy) and jeggings (these aren't really jeans). I've tried a wide range of sizes and brands. I've bought cheap jeans from Kohl's and Target and expensive designer jeans from fancy department stores.
Nothing. Fit. Right.
Which leads me to wonder: What the fuck is the deal, people?! (And I want my bootcut jeans back.)
Humans have developed vaccines that protect against life-threatening diseases. We've launched people into space, so they could walk on the moon. And no one has been able to create a pair of jeans that fits? WTF, humanity! It shouldn't be this hard.
I had basically resigned myself to hating jeans for the rest of my days on this Earth – until, that is, my sister-in-law (almost sheepishly) told me of the most genius invention in all the world.
In the midst of one of my vent sessions about the absurdity that is finding a decent pair of jeans and why I will likely wear yoga pants until my dying days, she asked, "Have you seen the new elastic waistband jeans?"
"You mean, like jeggings? Yeah, NO." Because, like I said, jeggings aren't actually jeans. C'mon.
"No," she said. "They are like legit jeans, and they have no zipper or button, but an elastic waistband. Kind of like maternity jeans without being maternity jeans."
Well, let me tell you, the skies opened up and a choir of Rock & Republic-clad angels started singing right then and there, because if they were ever a pair of jeans that felt almost comfortable, it was my old maternity jeans.
Now, I suppose I could have just continued to wear those maternity jeans into perpetuity, but given that my last baby is about to turn 8 years old, I think the statute of limitations has expired on those. And so began my quest to find this ingenious creation that would save me from scaring the neighborhood kids by inadvertently flashing them butt cleavage anytime I wore denim.
I found a cheap pair a few days later and was so smitten with them that I added another pair to my wardrobe a few weeks later.
Let me tell you, these jeans are a life-changer, people. LIFE CHANGER. They hold all the jiggly parts in place without strangling my FUPA, and I haven't flashed ass crack once.
I wouldn't go so far as to say they are as comfortable as my yoga pants, but I will say that maybe there is hope for humanity after all.
The only thing that would make them better would be if they were bootcut. Then again, I understand those are making a comeback (were they ever out of style?). Maybe miracles really do happen.
This article was originally published on