Why I Can't Go To Whole Foods Anymore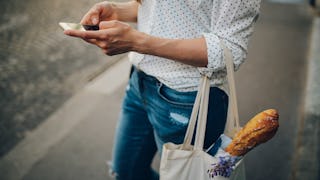 lechatnoir / Getty
I love Whole Foods. I love walking in there and admiring all of the beautiful people shopping for their organic, artisanal, micro-yogurts while they tote brightly colored yoga mats in woven satchels upon their toned backs. Once, I even saw a bearded man carrying a leather bag with a real live wooden lute sticking out of it — which I'm sure he whittled himself while crying real tears over the tree's death. For one weird moment, I wanted to be just like him, with his fresh produce slung under one arm and all of his positive life choices.
This is what Whole Foods does to you. It's like a magical fairy land where the fairies have come to life to look down upon you for eating meat and bread products. All of a sudden, you can only think of pleasing these fairies, so you start buying things like emu eggs and foraged pickles swimming in mason jar baths for the price of your child's first year of college. But at the moment, it all seems worth it.
Did you know quinoa is not cool anymore? I didn't. Not until I walked into Whole Foods. The quinoa was hidden on the shelf like your one weird cousin behind the fancier, more obscure ancient grains like Kamut and amaranth and einkorn. I can't even pronounce any of these things, but the moment I walk into Whole Foods, I instantly yearn to have them clean out my colon in $35 increments.
And don't even talk to me about the medicine aisle. I'm not normally a hypochondriac, but those glass vials always look super legit. Out of nowhere, I desperately want to protect the bacteria in my gut with probiotics from Sweden. One time, this lady who was wearing Danskos (and therefore looked like she knew what she was talking about) started telling me that the food that we grow today doesn't have the same vitamins in it. And when I saw how pale she was, I totally believed her. I made sure to stock up on some fancy-sounding vitamins that promised to make lots of things glow, and then I hitchhiked home because I no longer had any money for gas.
Outside of Whole Foods, I know that I don't have an intolerance to gluten, but once inside I'm just not so sure anymore. Bread that's been sprouted just seems better. It dawns on me that I need to start blending expensive green things together. I think it might be because all of the vegetables look brighter, the kale has been massaged, and most of the brussels sprouts have had a better quality of life than I have.
I once made the mistake of going to Whole Foods at lunchtime when I was hungry. Don't do this. If I can stop just one person from making this same error in judgement, it will be worth it. You will walk out with some kind of deconstructed sandwich — which just means you're missing the bread — and a $50 salad that has some unidentified berries in it, which will probably be able to tell you your fortune or help you speak another language.
And whatever you do, don't ever take your normal children there. They will just feel bad about themselves with their ordinary names and lack of hemp-based clothes. Mine also like to scream things like, "I love bacon!" which will cause the entire store to erupt in shocked gasps and people all around you will grip their jars of kombucha in horror. Atticus Kale, Tova Moon, and Clementine Winter Berry will run and hide behind their mothers' Lululemons and hobo bags because they actually have pet pigs, and your children will feel like demons. It's just too cruel.
So, I'm not allowed in Whole Foods anymore. This is basically because I have no self-control when people tell me that $90 truffles are the key to longevity. I just can't be trusted. Oh, and my spiritual advisor tells me that the shame spirals I experience after forgetting my reusable bags aren't good for any of my chakras.
This article was originally published on