If You Can't Orgasm With Intercourse, You Aren't Alone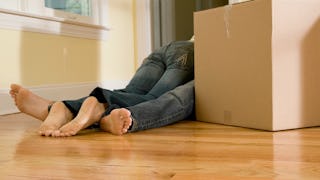 GettyImages- Stewart Cohen:Pam Ostrow
Confession: I've never had an orgasm through intercourse alone. I used to wonder if there was something wrong with me because I needed extra stimulation to reach the big O and I found other things like oral sex and fingers way more pleasurable than intercourse itself.
Am I greedy?
Am I stubborn?
Are all my parts working and in the right place?
As I have gotten older and more comfortable with my body, I have talked to other women about this phenomenon. I've realized I'm not greedy or stubborn (when it comes to sex anyway), and yes, everything is working as it should.
But more importantly, I am not alone. Far from it.
According to an article in Reader's Digest Best Health, research indicates that 80% of women do not have an orgasm through intercourse alone — they need extra stimulation. 80%! So please pass the vibrator and tell your partner how to hit it right. You deserve to go to pleasure town each and every time you hit the sheets.
And, to be clear, this has nothing to do with your partner's size, how long they last, or how they use it, and it doesn't hurt to reassure them of that before you have a talk — and you should have a talk about it if you're feeling left out of the fun. I demand it.
The reason only about 20% of females can orgasm during intercourse is we need direct attention paid to our clitoris, not our love canal, because this is where the party happens.
The article goes on to explain, "the penis doesn't provide enough direct or indirect stimulation on the clitoris to lead to orgasm."
This explains so much. I've tried every position out there. It's no one's fault. Many women I've talked to say they almost get there when they are on top, but still struggle and need a bit more stimulation to climax.
Just because most of us don't have an orgasm during intercourse, doesn't mean we don't enjoy it while it's happening. Because news flash: Women love having sex!
Do some of us fake it because we feel bad? Yeah, sure — that's the real crime here, ladies.
Our partners don't want us doing that, and would be much happier if we told them how they could arouse us even more with their hands and fingers, introduce a toy during intercourse, or let us show them where the sweet spot is. (And if our partner doesn't care, then that's a whole different issue.)
There are many positions that leave lots of room for fingers or toys to stimulate the clitoris during orgasm, such as him entering you from behind, or you sitting on top. Reverse cowgirl is great for some clitoris play too. Or, you can have all the attention on you after intercourse is over, or before it starts. Another fun game is to switch it up by having intercourse for a while, then he can perform oral sex on you until you climax, then finish up with more intercourse. An oral sex sandwich, if you will. Yum.
There is nothing wrong with asking for what you want. No one should say they got theirs when they are really feeling less than satisfied. Nor should we lead our partners to believe they are satisfying our precious pearl in all the right ways when they really aren't.
And just because you aren't climaxing at the same time, doesn't mean it's any less fun or explosive. It makes sex last longer, and forces you to spice things up — so run all around the bedroom (or kitchen, whatever) and try new things.
But most of all, don't be ashamed you aren't having an orgasm through intercourse; there is nothing wrong with you and most of us (80%, remember?) are in the same boat. I can assure you, a loving, caring partner wants to know if they aren't making your lower lips smile, so tell him if you need something else in the sex department.
Because really, it's more important that you get yours too than it is to have simultaneous orgasms.
This article was originally published on