Capital Gazette Survivor: 'I Couldn't Give A F*ck' About Your Thoughts And Prayers'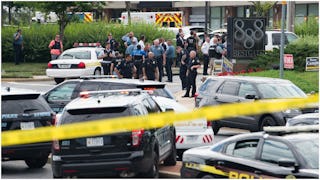 Image via SAUL LOEB/Getty
'Capital Gazette' reporter doesn't want your thoughts and prayers
This week, five people were killed and two injured when a gunman opened fire at the Capital Gazette, a newspaper in Annapolis, Maryland. Donald Trump quickly offered up his thoughts, prayers, and nothing else. That's not enough for one of the shooting's survivors.
Hours after the attack, Capital Gazette staff writers Selene San Felice and Phil Davis appeared on Anderson Cooper 360 to discuss what happened. The two hid under a desk during those horrific moments and Davis described feeling "powerless, helpless, it removes all control from every facet of your life."
Around the 12-minute mark of the interview, San Felice addresses Trump's tweet following the shooting, which offered "thoughts and prayers" to the victims and their families.
"I've heard that President Trump sent his prayers. I'm not trying to make this political…but we need more than prayers. I appreciate the prayers. I was praying the entire time I was [hiding] under that desk. I want your prayers but I want something else," she said."I'm going to need more than a couple days of news coverage and some thoughts and prayers because our whole lives have been shattered. Thanks for your prayers, but I couldn't give a fuck about them if there's nothing else."
Davis agreed with San Felice and offered his own heartbreaking take on the Trump administration's stance on gun control (or lack thereof).
"I was praying when he started reloading that shotgun that there weren't going to be more bodies," he said. "And you know what? If we're at a position in our society where all we offer each other is prayers, then where are we? Where are we as a society where people die and that's the end of that story."
Their voices were among the many gutwrenching heard from that day. One intern tweeted while the shooter was in the building. Others took to social media afterwards to share how they were doing.
This shooting comes on the heels of Trump's incessant bashing of the media. During a campaign rally earlier this month, the president called journalists "the enemy of the people." It's a rhetoric he's used over and over and over again.
Far-right commentator Milo Yiannopoulos also made recent headlines for bashing the media, only with a much more outwardly violent take. "I can't wait for the vigilante squads to start gunning journalists down on sight," he wrote in a text message to The Observer. Following the shooting, Yiannopoulos took to Facebook to explain that he was trolling the reporter who had requested a comment from him.
Right. Because that's a totally normal way to react when you don't want to give information to an outlet. Another option is: "no comment."
Even after enduring yesterday's horror, the Capital Gazette isn't letting anyone silence their reporting. Journalists for the paper were captured still working, outside, while awaiting news of their colleagues yesterday.
"I can tell you this: We are putting out a damn paper tomorrow," Chase Cook, a reporter at The Gazette, tweeted.
And that's exactly what they did.