8 Savvy Tips For Getting The Best Deal On Your Next Car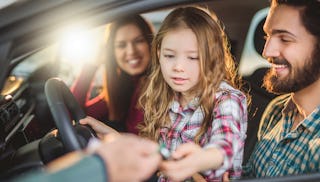 DjelicS / Getty Images
Parenting can be challenging, but what sucks even more is car shopping as a parent. There's no handbook on how to do it, so we're all basically winging it. We drag the kids to the dealership with some goldfish crackers and an iPad, and pray to the car gods for a miracle. There are a few things, however, that you can do to make your car buying experience less sucktastic and dare we say it, easy.
Here are eight ways you can find the perfect car for you and the tiny humans who insist you do their bidding.
1. Manage Your Expectations
Listen, if it were up to us, all parents would have a driver named Steve delivering our families from place-to-place while we sip coffee in the backseat. But that's not realistic in terms of cost — at least for most of us. Instead, it makes sense to get real about what we need and also what we want. It's like parenting ourselves instead of our kids: No, you can't have Steve the Driver, but you can have automatic closing doors so the kids can tuck and roll at soccer drop-off.
2. Figure Out Your Must-Haves and Stick to Them
This may seem like an obvious tip, but making a list of your must-haves will ensure you get everything you need and nothing you don't. What mileage are you looking for? What is your price range? Put it all on the list. The goal is to narrow down your search terms from "sky's the limit" to something more manageable like "seating for six" and "well below the price of an arm and a leg." Then you can get to the fun stuff like model, trim, and color.
3. Shop Around
Be sure to check out more than just the car dealerships close to your home. Jump online and use a reputable website like CarGurus to help you find exactly what you're looking for. CarGurus lets you personalize your search, then rates every deal from great to overpriced. You'll see all the best deals first so you aren't scrolling through an endless list looking for the best deal because who has the time? Not you, ever.
4. Don't Impulse Buy
Ever bought a pair of boots that you thought you couldn't live without, only to come home and be lukewarm about them? Well, you don't want to do that with a car. Make sure you are getting exactly what you want — this way you won't spend the next four years thinking about how having a third row meant your kids would be farther away from your snack stash.
5. Test Drive Before You Commit
What has two thumbs and doesn't invite every playground mom to be their bestie? YOU! Just like mom friends, you need to test drive cars before you declare your BFF status. Test driving allows you to see if the dreaded check engine light appears or if that that spacious-looking crossover actually provides enough room. A test drive allows you to sweat the small stuff before you commit.
6. Get the Facts
Sure, it's pretty in the picture, but what about its history? If your potential new ride sat in flood water for two weeks before Larry's Autobarn gave it a blow-dry treatment, you're gonna want to know that. Transparency is key, so accident reports and number of days on the market are the kinds of valuable information you need. Free vehicle history reports are a huge perk of CarGurus, which is why searching with them should be your jam.
7. Negotiate
Woot, you've found the car that's perfect for you. Before you start blasting '90s hip-hop in the school pickup line, you need to make sure you're getting the best deal possible. With a site like CarGurus that analyzes millions of data points on thousands of car listings every day, you know exactly where you stand. They'll tell you if the deal is great so you can buy with confidence — and they'll also tell you if the deal could be better so you're ready to negotiate with all the facts and comparables. Imagine a world where an app analyzed PTA meetings so we wouldn't have to go. THAT WOULD BE AMAZING.
8. Celebrate Your Money Moves
Congratulations, sis, you did it and barely broke a sweat. Which, let's face it, is the only way to buy a car — working smart, not hard. As moms, we show up and work hard in ALL things so it's refreshing to let algorithms and the tappity-tap-tap of your keyboard lead the way to a new set of wheels.
Parenting is hard, car buying doesn't have to be. Between doing laundry, packing lunches, and soccer practice, trying to find the best deal on a car can feel impossible. So let CarGurus do it for you. Whether you're in the market for a used or new car, you can trust them to find the perfect car for you. Check them out at CarGurus.com or download their app to get started today.
This article was originally published on