Cardi B Claps Back At Criticism Over Kulture's Lavish Birthday Party & Gifts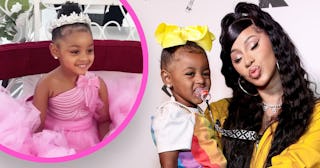 Cardi B/Instagram and Rich Fury/Getty
Cardi B clapped back at social media comments criticizing her and Offset for Kulture's lavish third birthday party and gifts
It might be hard to believe, but Cardi B's daughter Kulture is already three years old. To celebrate her baby girl's big day, Cardi and Kulture's dad, Offset, went all out — we're talking a blowout fairy tale-themed birthday bash complete with a Cinderella-style horse and carriage and gifts including a watch valued at $250,000.
Cardi documented the entire event on Instagram Stories, taking fans and followers along every step of the way during Kulture's big day. The party itself looked like a ton of fun for guests of all ages, including farm animals, meet-and-greets with Disney princesses, ball pits, bounce houses, and an indoor bowling alley — and of course Kulture herself looked every inch the real life princess, even donning a puffy pink dress and a glittery tiara, rolling up in a horse-drawn carriage to greet her party guests.
While most people on Twitter were simply asking for Cardi and Offset to adopt them (or at least share some of the crab legs from that epic crab leg tower), some were quick to criticize the soon-to-be mom of two for hosting such an elaborate party, along with gifting Kulture some pretty extravagant gifts, including an Elliot Eliantte necklace from Cardi, which featured charms including a pink Hermès purse, the Chanel logo, and her first initial, K, and a $250,000 Richard Mille watch from Offset.
While some commenters pointed out the gifts and party are "materialistic," it seems Cardi herself is unbothered. She responded to a since-deleted tweet criticizing her for "spoiling" Kulture.
"Listen imma live my childhood dreams thru my kids," she tweeted. In a subsequent tweet, she added, "When your kid want ice cream for dinner do you give them ice cream for dinner?" she tweeted. "My baby is overly spoiled wit toys & super educated.If mommy & daddy fly then so is my kids.Fuck I look like being fly ass fuck and my kid not."
Then, when that tweet received pushback from people criticizing Cardi for trying to live vicariously through her child, she explained why she's all about giving her kids things she never had the opportunity to experience in her own childhood.
"Yes why not ? Princess parties ,unlimited toys , vacations and Pools my kid loves the pool and I went to the pool like 5 times in my childhood. Different flavor cereal not just Raisin Bran," she wrote.
The moral of the story, friends: There's truly no need to comment on or criticize how someone else chooses to parent their children, no matter how famous they might be. Here's hoping that Kulture and all her loved ones had a fabulous time at her party and made family memories to last a lifetime. Next time, can we score an invite, please, Cardi?