Cardi B And Missy Elliott Bond On Twitter Over Their Anxiety Struggles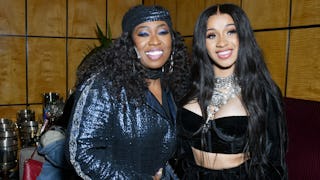 Image via Jared Siskin/Getty Images
Cardi B tweeted about having anxiety and everyone from Missy Elliott to Sarah Silverman chimed in to help
Cardi B seems pretty on top of the world these days, right? Her solid social media game and political knowledge is gathering attention, her success as a performer is currently exploding, and she's a new mom to an adorable baby girl named Kulture. But just like so many of us, the rapper still struggles with anxiety. She took to Twitter this week with a simple statement about her mental health, and Twitter, including fellow rapper Missy Elliott, rushed to let her know she's far from alone.
What happens when two of the most successful female rap artists of all time have a sweet Twitter exchange about dealing with anxiety? You feel hopeful, that's what. Because it wasn't that long ago that it seemed like no one was saying out loud what so many people go though when it comes to anxiety.
Elliott was among the first to chime in and tell Cardi she's not the only one.
She even answered a fan who acknowledged the unique pressure artists have to deal with.
Cardi has spoken before about the pressures of her industry — and her success. "At first when I was doing music it was fun, and I was so eager to get in the studio all the time," she told Sirius XM during an interview in April 2018. "Now, I get anxiety when I go to the studio because everybody is like expecting some crazy magic from me."
While most of us can't relate to the issues Cardi herself is encountering, plenty of us can relate to anxiety. According to the Anxiety and Depression Association of America, from puberty up to age 50, women are twice as likely as men to develop an anxiety disorder.
But aside from the very cool interaction between two badass women, the rest of Twitter had some solid advice on how to cope when anxiety takes over. They suggested tried and true methods like meditation and deep breathing.
Oh, hello, wonderful Sarah Silverman with this kind and simple support.
But a lot of folks were just grateful to see famous women like Cardi and Missy bringing this conversation into the light.
And many just wanted to show their support and encourage her.
https://twitter.com/jetpack/status/1092664197530509313https://twitter.com/jetpack/status/1092640375284604934
While others reminded her that she's her own best motivator.
And Gus Kenworthy was looking on the bright side after Cardi's very public taking down of Tomi Lahren last month.
This is far from the first time Cardi's kept it very real about whatever she's got going on in life. From handling postpartum depression to her feelings on giving birth to her post-pregnancy body, she's always one to be upfront and make others feel seen and heard.
https://www.instagram.com/p/Bl4S70CncEp/?utm_source=ig_embed
Which is exactly why we love her.