Cardi B Files For Divorce From Offset After 3 Years Of Marriage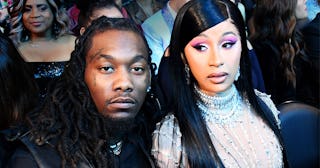 Kevin Mazur/Getty
Cardi B and Offset have been married for 3 years and share a daughter together
It's been one heck of a summer for Cardi B. The first female rapper to win the Grammy for Best Rap Album has been absolutely basking in the worldwide success of her collab with Megan Thee Stallion, "WAP" — otherwise known as the song that no one could stop listening to this summer. But now, Cardi is getting her first bad news seemingly in a while: She just filed for divorce from Offset, her husband of three years.
According to People, Cardi filed for divorce at a courthouse in Atlanta, saying in her filing papers that their marriage is "irretrievably broken," and "there are no prospects for a reconciliation." This comes after rumors that Offset was unfaithful to his wife — and not for the first time in their relationship.
In December 2017, there were rumors that Offset had cheated, just a few months after he and Cardi B had their secret wedding. January 2018, Cardi publicly confirmed that her husband was the person in a sex tape circulating online, and that he was cheating on her when the tape was recorded.
"This shit happens to everyone and I be too, you too" Cardi wrote in a tweet at the time, which has since been deleted. "People handle they relationship different soo."
Later, in an interview with Cosmo, she explained why she decided to stay with Offset at the time.
"I know I look good, I know I'm rich, I know I'm talented. I know I could get any man I want — any basketball player, football player," Cardi said. "But I want to work out my shit with my man, and I don't got to explain why. I'm not your property. This is my life … I'm going to take my time, and I'm going to decide on my decision. It's not right, what he fucking did — but people don't know what I did, 'cause I ain't no angel."
In July of 2018, just as headlines around Offset's infidelity started to die down, Cardi announced that they were expecting their daughter, Kulture. But amid even more cheating rumors, the couple split up in late 2018 — only to reconcile in early 2019.
Is this actually the end of their relationship? Only time will tell, but we hope everyone involved — Cardi, Offset, and especially little Kulture — is able to find happiness.
This article was originally published on