Cardi B Comes For Trolls Shaming Her Toddler For Using A Pacifier
by Madison Vanderberg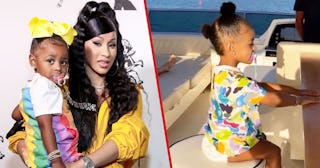 Rich Fury/Getty and Cardi B/Instagram
Cardi B tells trolls to "stop tellin moms what to do with their kids" after fans criticize her over daughter's pacifier
Cardi B's daughter Kulture Kiari Cephus is two years old and thriving. Over the weekend, Cardi and her husband Offset took Kulture along with them on a V-Day beach trip and instead of fans marveling at how young Kulture gets to tag along on mom and dad's romantic Valentine's Day dinner, which is pretty sweet, the trolls came out to mommy-shame Cardi for *gasp* allowing her two-year-old daughter to use a pacifier.
Kulture can be seen with her pacifier in the vacation videos Cardi shared on Instagram Stories and some mommy-shamers really went out of their way to go on Twitter and make comments about the damn pacifier.
Imagine hopping from one social media platform to another just so you can criticize a celebrity's parenting! It's a lot of effort to be critical of Cardi B and doesn't seem like it's worth it, but okay, internet!
"I love Cardi but Kulture still has a pacifier!" wrote one Twitter user, as if Cardi B's talents as a woman are diminished because her very young kid "still has a pacifier."
Some of these comments go beyond your garden-variety mommy-shaming into straight-up investigative work. Who had "Kulture's future dental work" on their celebrity mommy-shaming bingo card, because I sure as hell didn't?
Cardi B has actually been dealing with this for at least a year. Fans on social have been speaking their mind about Kulture and her pacifier for a while now, and I can only imagine how exhausting it must be for Cardi to see these comments constantly.
Cardi, clearly fed up with this shit, took to Twitter to put an end to the mommy-shaming about this particular pacifier issue.
"Some kids are not like YOUR KIDS," Cardi wrote on Twitter. "Some kids don't leave they paci fast or bottle or potty trained faster then others .Some kids are cool ,calm some like to play and are super active that barely naps (mine) stop tellin moms what to do with their kids.All kids are different."
"Stop tellin moms what to do with their kids," is GOLD.
Although Cardi's message was on-point, I fear it will only quell the trolls temporarily. As long as moms, both famous and not, continue to exist on the internet, people will feel compelled to weigh in with everything from parenting advice to parenting criticism. Perhaps that's why famous moms like Kristen Bell refuse to show their children's faces on Instagram, both for privacy and also to get a break from the mommy-shaming echo chamber.
In other news, Kulture continues to live her best life.